Natalie Rogers
Advisor
Occupation: Deputy Chief of Staff to Senator Cory Gardner from Colorado

Biography
Class of '03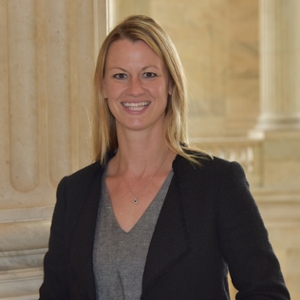 Natalie Farr Rogers currently serves as Deputy Chief of Staff to Senator Cory Gardner from Colorado.  She manages the staff and operations of the Senator, and she advises him on issues relating to his assignments on the Foreign Relations Committee; the Commerce Science and Transportation Committee; the Energy and Natural Resources Committee; and the Small Business Committee.  She began her job with then Congressman Gardner in 2011 as his Legislative Director, and she works closely with state, local and industry interests to advance Senator Gardner's policy goals.  
Before working for Senator Gardner, Ms. Rogers oversaw various policy issues for the House Republican Study Committee (RSC) – a Committee providing research and policy analysis to over 100 members of the House Republican Conference.
Prior to the RSC, Ms. Rogers was a political appointee at the Department of Labor under President George W. Bush.  She served in the Office of Congressional and Intergovernmental Affairs and specifically focused on international visa issues. 
She also worked for Congressman John Shadegg of Arizona from 2005-2008 and at the Senate Republican Policy Committee under Chairman Jon Kyl from 2004-2005.
Ms. Rogers graduated from William and Mary in 2003 with a degree in Government and has a Master of Public Policy from George Mason University. 
Appointed: 2016
Current Term: Class of 2019