David D. Oxenford
President
Occupation: Partner, Wilkinson Barker Knauer, LLP

Biography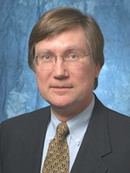 Class of '77
Mr. Oxenford received his undergraduate degree from the College of William and Mary in 1977, and his Juris Doctor degree, with distinction, from Emory University in 1980.
Mr. Oxenford is a partner in Wilkinson Barker Knauer, LLP's Washington, DC office. David has represented broadcasters for over 25 years on a wide array of matters from purchases and sales of broadcast properties and the negotiation of programming agreements to regulatory matters. His regulatory expertise includes all areas of broadcast law including the FCC's multiple ownership limitations, the political broadcasting rules, EEO policy, advertising issues, and other programming matters. He also represents webcasters and other digital media companies, including serving as counsel to a webcast trade association, and representing internet radio companies on copyright, music licensing and other issues.
Involvement in communications activities predates Mr. Oxenford's legal career.  While in college, he was very involved in the operation of the College of William and Mary's FM radio station, serving as general manager of the student-run station during his junior year. Mr. Oxenford currently serves as First Vice President of the Board of Advisors for the Jefferson Program in Public Policy.
Appointed: 1998
Current Term: Class of 2019