Brett Levanto
Advisor
Occupation: Vice President of Operations, Obadal, Filler, MacLeod and Klein

Biography
MPP Class of '09
Former Program Alumni President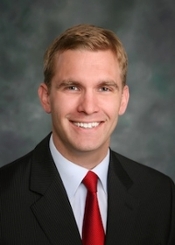 Brett Levanto is Vice President of Operations for Obadal, Filler, MacLeod and Klein, a boutique public policy advocacy firm in Alexandria, Virginia. He joined the firm in March 2014 after 4 years as an analyst for the U.S. Marine Corps. While a Civilian Marine, Mr. Levanto provided analytical, planning and consultant support to the commanding generals and civilian directors of Headquarters Marine Corps staff agencies.
His professional experience includes quantitative analysis for contracting firm AE Strategies, mission coordination at Angel Flight Mid Atlantic and corporate business development at Lockheed Martin.
In 2004, Mr. Levanto graduated magna cum laude from the George Washington University. He received a Master of Public Policy from the College of William and Mary in 2009.
Appointed: 2014
Current Term: 2020