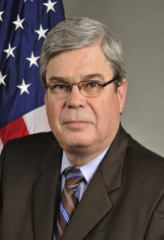 Charles A. Ford
Advisor
Occupation: President CAF International, LLC Treasurer, American Foreign Service Association

Biography
Class of '72
Ambassador (r) Charles A. Ford is President of CAF International, LLC, an international market development and strategic communication/change management consultancy.
Previously, Ford served as the Acting Assistant Secretary of the United States and Foreign Commercial Service (USFCS) at the Commerce Department. In this role, he led the premier federal export promotion agency with a $270 million budget and 1400 employees located in more than 70 countries.   
From 2008-2009, he served as the Advisor on Public Private Partnerships to the Commander of U.S. Southern Command. From 2005-2008, he served as the U.S. Ambassador to Honduras.
With over 27 years experience and fluent in Spanish, he's held senior policy positions in Washington focused on U.S. trade, particularly in Latin America and often through Public Private Partnerships.  Assignments in Washington D.C. included Deputy Assistant Secretary of the USFCS and Director of Latin American Trade Policy in the International Trade Administration.  Posts abroad included Belgium, Venezuela, London, Guatemala, Spain and Argentina.

In addition to a W&M B.A. in Economics, he holds an M.A in Latin American Studies from George Washington University and is a former Vice President of the American Foreign Service Association.  He's received numerous honors and awards for merit, achievement and performance.
Appointed:  2012
Class of 2018