Brian Diffell
Advisor
Occupation: President, WTG Global

Biography
Class of '99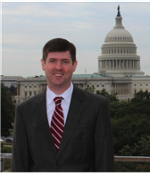 Brian Diffell serves as president at the Washington Tax & Public Policy Group (WTG). In this capacity Brian handles all facets of client relationships for multinational companies on legislative and regulatory issues including from international trade, tax, telecommunications, and defense.
Prior to joining WTG in October 2013, Brian spent 12 years working for now-Senator Roy Blunt (R-Missouri), most recently as legislative director and chief policy advisor in Blunt's capacity as vice-chairman of the Senate Republican Conference.  In that capacity Brian managed Blunt's legislative staff and agenda, including committee work, key legislative priorities, and leadership initiatives. He additionally served as the Senator's immediate adviser on issues related to national security and trade.
Brian also served as legislative director and leadership aide for Blunt during his final two years in the House of Representatives before Blunt's election to the Senate in 2010.
Previously Brian spent six years as policy advisor and senior policy advisor to Blunt during his tenure as Republican Whip – a top leadership role voted upon by all Members of the House Republican Conference – handling foreign policy, international trade, intelligence, immigration, government reform, election reform, small business, and telecommunications issues. 
Before joining the House Whip staff in 2001, Brian served as a Program Officer for the American Council of Young Political Leaders for two years, working alongside domestic and international groups to arrange programs for young elected officials around the world. He has also worked for the Northern Virginia Roundtable, an association of regional high-tech executives. 
Raised in Blacksburg, Virginia, Brian graduated from the College of William & Mary with a degree in International Relations, focusing on European studies, as well as a minor in German.  He holds a Master's Degree with Highest Distinction in National Security and Strategic Studies with a focus on Strategy, Operations, and Military History from the United States Naval War College.  Brian lives in Alexandria, Virginia, with his wife Jennifer and two children.
Appointed: 2014
Current Term: Class of 2020