Douglas R. Cook
Advisor
Occupation: President, Transocean International Group

Biography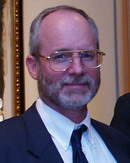 Class of '81
Mr. Cook received a B.S. (geology) from the College of William & Mary in 1981.
Mr. Cook is President of TransOcean International Group, an international business consulting firm focused on energy, banking and communications. Based in Kitty Hawk, NC, TOI has offices in Alaska, the Middle East, Japan and China.
Mr. Cook has 25 years experience in petroleum and mineral resource exploration, prospect valuation, production sharing agreements, mineral rights and process facilities feasibility studies. He has worked as an exploration geologist throughtout Alaska and offshore Gulf of Mexico. Mr. Cook has also served as Asia GM for the largest refined copper producer in North America.
Appointed: 2005
Current Term: Class of 2020