Alice B. Borrelli
Advisor
Occupation: Director, Global Health and Workforce Policy, Intel

Biography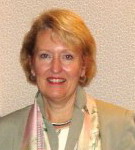 Class of '74
Ms. Borrelli holds a Bachelor's degree (government) from the College of William and Mary and an MPA from New York University.
Ms. Borrelli is Vice President of Congressional Affairs for AT&T, representing the company on telecommunications, environment, benefits and labor issues. For over a decade, she has interacted with Congress on the Telecommunications Act of 1996, Broadband issues, Medicare and Pension Reform, Internet Tax, and Telework initiatives.
During her career with AT&T, Ms. Borrelli led an international marketing team while in consumer sales and provided legislative and regulatory guidance for AT&T's state government affairs efforts.
Prior to AT&T, Ms. Borrelli launched corporate public affairs programs for JC Penney including the nationally recognized Golden Rule Awards. Aditionally, her clients have included the World Bank, the American Red Cross and the Corporate Volunteer Council. Ms. Borrelli currently serves as Chair for the Nominations Committee on the Board of Advisors for the Jefferson Program in Public Policy.
Appointed: 2004
Current Term: Class of 2019