New Course Structures Transform the Learning Experience
"Students don't need to just sit in a classroom anymore," says Psychology Professor Danielle Dallaire. "We've redesigned several courses to enrich the student experience by offering new opportunities that engage student interests and offer what they will need to be in the work world in 2011 and beyond."

One of the recent course changes pulled the service element out of the Developmental Psychology course to create a separate Service Learning Internship course. The smaller internship class meets once a week, and students share and learn from their service-learning experiences. Guided reflection helps them make sense out of the experiences they are having.
"Students learn the essential nuts and bolts of normal child development in the Developmental Psychology class," says Professor Catherine Forestell who teaches the Service Learning Internship course. "Then the Service Learning Internship allows them to take what they learned into the field to experience it through working hands-on with local kids. They see child development come alive before their eyes."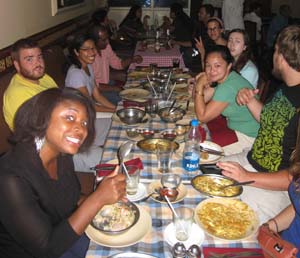 Professor John Nezlek's summer course, Understanding Cultural Differences and Similarities from a Psychological Perspective, is taught in Goa, India. An ethnically rich city, Goa allows students to study the dynamics that are in play when people of different ethnicities meet.
"More than ever before, today's students need to be able to take an international perspective as they consider various issues, and such a perspective needs to be informed by an understanding of non‑Western cultures," says Professor Nezlek. "This program's combination of Goa University classes and local field trips provides an excellent introduction to Indian culture and society—an introduction that can change how one sees the world."
Professor Jennifer Stevens' Perception & Representation in Art & Architecture course also provides hands-on learning through exploring national monuments, state buildings, churches, embassies, and museums in Washington, D.C.
"This summer course provides first-hand observation and experience of art and architecture within the context of psychological study," says Professor Stevens. "There is no amount of lecture-speak that can truly explain what it feels like to stand in the Lincoln Memorial or to observe an Impressionist painting up close and then from far away. These kinds of experiences make the immaterial of cognitive processing tangible."
Just as students find that hands-on learning makes the experience much more meaningful, so do the faculty.
"These new classes allow us to focus on faculty strengths," says Professor Dallaire. "Faculty have the opportunity to teach what they are passionate about while taking the learning out of the classroom and into the real world. It truly benefits everyone."