Vahle Honored with 2013 W&M Alumni Fellowship Award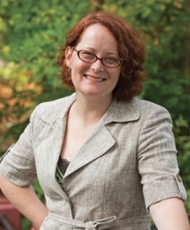 Patricia Vahle, associate professor in physics was one of the recipients of the 2013 Alumni Fellowship Award from the Society of the Alumni at the College of William & Mary.
 Each year, the Alumni Association  recognizes five exceptional faculty members with the Alumni Fellowship Award, endowed by the Class of 1968. Recipients receive a $1000 honorarium and are celebrated at the Fall Awards Ceremony. The 2013 winners of the annual Alumni Association Awards were honored at a banquet at the William & May Alumni House on Thursday, September 19th.
You can read more about the winners in  Fall 2013 William & Mary Alumni Magazine (pdf). 
 Congratulations Tricia! From Physics Department faculty and staff.