Although it threatened to rain and the rain plan was called,  the faculty, graduates, and their families came together in Small Hall Auditorium to celebrate the accomplishments of the graduating class. We had 12 graduates receiving their Bachelor of Science Degree from William and Mary. Professor Griffioen, Chair of the Department, gave the opening remarks. He talked about the awards our students had received this year. 
Professor Griffioen remarked about the department's achievements, our new building, and the different kinds of research our department's faculty, along with their students, are involved in. He recognized the Masters and PhD recipients. Then he introduced Professor Perdrisat who shared with us his words for the graduating class. Afterwards, Professors Perdrisat and Griffioen bestowed the long awaited diplomas to the graduating class of 2011, as parents captured the moment on film.   
We congratulate Ron Wilcox for receiving The Lord Botetourt Medal for his academic accomplishments. The Lord Botetourt Medal, established in 1772 "for the honor and en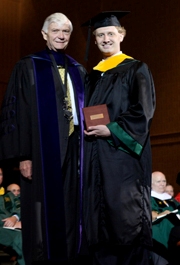 couragement of literary merit," was presented to Ronald Wilcox '11. Wilcox graduated with honors in physics and a 4.0 GPA. Based on his research at the Relativistic Heavy Ion Collider at Brookhaven National Laboratory, he was named a finalist in the 2010 National Science & Energy Research Challenge Competition and a bronze medalist in the 2010 International University Physics Competition.