2011 Undergradute Symposium
The 17th Annual Undergraduate Science Research Symposium was held on Friday, February 18th in the Sadler Center.  
Ron Wilcox '11 and Kevin Cox '11 gave oral presentations. 
Ron Wilcox's research title  "A GORy, Complex Tale Full of Action"

Kevin Cox's research title  "Vector Magnetometer Using Rb Vapor"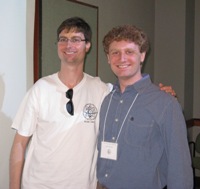 Sandro Gvakharia '12 and David Gribbin '11 presented posters. 
Sandro Gvakharia's research title  "Performance of Vertical Drift Chambers for the Qweak Experiment" 
David Gribbin's research title  "Whispering Gallery Mode Resonator Fabrication and Coupling"