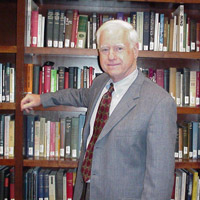 Alan Fuchs
Professor of Philosophy, Emeritus
Email: [[afuchs]]

Biography
Alan E. Fuchs is Professor Emeritus of Philosophy, and the former chair of the Philosophy Department at the College of William and Mary.  He has also taught at the University of North Carolina at Chapel Hill and was a Fellow of the National Humanities Institute at Yale University.  At William and Mary, he was awarded the annual Thomas Jefferson Teaching Award and the Thomas Ashley Graves Award For Continued Excellence in Teaching.
Fuchs received his B.S. degree from the Massachusetts Institute of Technology (in Physics and Philosophy) and his M.A. and Ph.D. from Harvard University.  He has published articles in moral psychology, moral theory, and the philosophy of rights, specializing in the work of John Stuart Mill and John Rawls.  Fuchs has also served as a participant in numerous conferences exploring the role of ethics in public policy, especially in the professions of politics, education, and the law.
Fuchs was appointed as a member of the American Philosophical Association's Committee on the Teaching of Philosophy and was elected President of the Virginia Philosophical Association.  He has also served as a member of the executive boards of the International Society for Philosophy of Law and Social Philosophy and the American Society for Social Philosophy.