Department Welcomes Professor Victoria Costa to the Faculty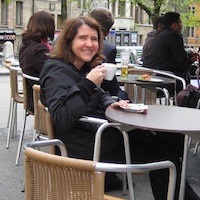 The philosophy department has had great success recently in its attempt to recruit strong faculty members to fill open positions. After adding Professors Gert and Freiman to the faculty last year, the department is now excited to welcome Victoria Costa to the faculty as an Assistant Professor, starting this fall. Professor Costa comes to us from Illinois State University, and she brings with her an expertise in social & political philosophy and ethics. A native of Argentina, Professor Costa did her graduate work at Universidad Nacional de La Plata, writing a dissertation entitled "Political Justice and Citizenship Education". She has an impressive list of published articles, and just last year she published a book with Routledge -- Rawls, Citizenship, and Education -- which examines "the role that public and private educational institutions play -- or should play -- in the construction of more just and more democratic societies" (p. 2-3).
In addition to her contributions to the philosophy department, Professor Costa will also teach courses that will benefit the programs in Public Policy and Environmental Science. This fall Professor Costa will be teaching Phil 305 (Social & Political Philosophy) and Phil 306 (Environmental Ethics), and in the spring of 2012 she will teach Phil 303 (Ethics) and Phil 306 (Philosophy and Public Policy).