Salve et Ave: Symposium Scholars Honor Professor Oakley
Students, alumni, colleagues, and friends convened April 13 to honor the forty-year career of John Oakley, Chancellor Professor and Forrest D. Murden Jr. Professor of Classical Studies. The scholarly event was funded in part by the Arts & Sciences Annual Fund.
The Hon. Paul Freiling '83, current mayor of Williamsburg, introduced the symposium, recalling his sophomore year in 1980, when Professor Oakley joined the faculty "and became the fulcrum and lever of my life."
"Not only could he describe, in excruciating detail, the intricacies of the vase paintings of some unnamed, long dead, Greek artist," said Freiling, "But he could decipher the odd imagery into a fascinating tale of intrigue, heroic feats, divine intervention, or treachery. He literally brought inanimate objects to life -- and we ate it up."

Throughout the morning and afternoon, colleagues and former students saluted Professor Oakley with scholarly presentations:
Alan Shapiro, Johns Hopkins University: "Syriskos: Potter, Painter, Athenian Patriot"
Mark Lawall '88, University of Manitoba: "Dionysos on the François Vase Again: Amphoras and Early Archaic Feasting"
Hallie Franks, NYU-Gallatin School: "The World Underfoot: Mosaics in the Greek Symposium"
Seth Pevnick, Cleveland Museum of Art: "LYKOS KALOS: Beyond Youthful Beauty"
Maura Brennan '15, University of Cincinnati: "Landscapes of Figured Pottery"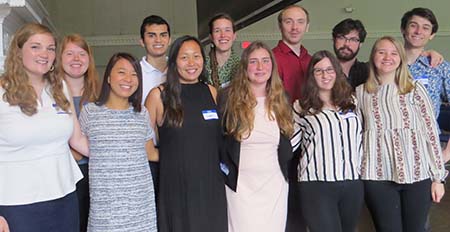 Over lunch, current students enrolled in the senior capstone course, "The Augustan Age: Tradition and Innovation," gave five-minute presentations of their original research, as part of the new COLL 400 curriculum.
Their professor, Georgia Irby, noted, "The Augustan Age marks a turning point for Rome, a culmination of all that came before and the beginning of the extraordinary accomplishments that emerged under the pax romana. Within this broad area, students reflected on the discipline as a whole and consolidated their knowledge of the Classics. Each of them looked deeply into the evidence and the argument on their chosen topic, and it was a pleasure to watch them present a part of their larger research projects."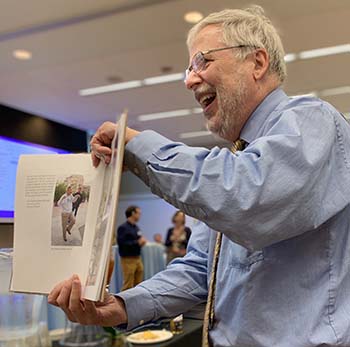 At a reception following the symposium, Professor Irby, as department chair, presented Oakley with a souvenir Tabula Congratulatoria and led participants in a toast: "Please join me in raising your glasses to martial arts master, friend to dogs and cats everywhere, rock'n'roll star, devoted father, attentive mentor to students and junior colleagues, the guy who wrote the book(s) on Greek vase painting, John Oakley!"