Jump-start Communication Projects with New "Write-in" Sessions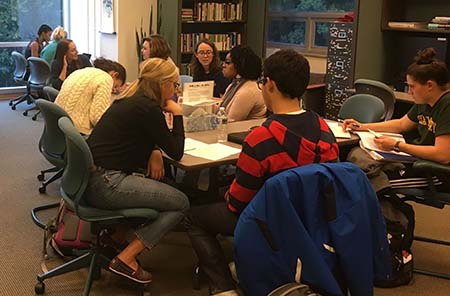 Sometimes, a few quick questions and some brainstorming are just the thing to jump-start your communication project and work through the next steps. That's the idea behind the student Write-in sessions offered by the Writing Resources Center. The new format was introduced as a pilot project last semester, funded in part by the Arts & Sciences Annual Fund.
According to Lori Jacobson, associate director, "The Write-ins offer a quick check-in with no appointment needed. It's a great way to serve more students at every stage of their projects." About 90 students dropped by in Fall 2018, often sticking around to continue their work. 
Write-in sessions are held Thursday afternoons throughout the academic year. Sometimes a session will begin with a short, timely workshop geared toward where students are in the semester cycle. "Organize Your Ideas" to start the semester, for example, followed by "Finding and Using Information Sources" and "Essay Exams: Taking the Blues Out of Blue Books."
For Claudia Marie Sánchez-Beato Johnson '20, the Write-in format is a big win: "The dynamics of the Write-in sessions are fast-paced, allowing you to share your work with multiple tutors and receive feedback. The sessions are extremely beneficial for starting out your papers and obtaining creativity and inspiration."