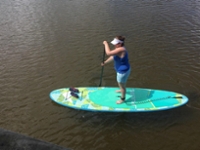 Our very own Salley Rowe, the Government Department's Administrative and Fiscal Coordinator, has been elected as Senator to Staff Assembly. Rowe was elected by the operational, classified, and non-student employees at William & Mary to serve a two-year term as Senator.
Rowe has been a helpful addition to the College since her start in July 2018 with the government department. She graduated from the University of Richmond, Summa Cum Laude with a BLA. Her positivity, work ethic, and leadership have been appreciated by all and it is a pleasure to see her recognized for it within Staff Assembly.
Staff Assembly is tasked with advocating for the interests of the entire College. Their primary objective is "facilitating a better network of communication between employees and the executive administration". As a student employee working under Rowe myself, I can confidently say she is a wonderful candidate fit for the challenge. Her experiences as a William and Mary employee are vital to helping Staff Assembly better understand the cultural climate at the school and recognizing the areas in need of attention. She is a diligent, hardworking, and caring employee of the College as this will show during her time as Senator.

Rowe's official meeting as a voting member of the Assembly is May 16th, 2020 where they will elect officers for the following year. Rowe's focus within Staff Assembly will be on "equality in the workplace". Congratulations Salley Rowe! We are confident in your ability to serve and represent both employees and the administration well.