Civil Discourse in a Polarized Society
Losing friends over political disagreements?
Family gatherings getting more uncomfortable, with lists of topics "out of bounds" being circulated in advance?
National surveys are find increasing numbers of Americans reporting that disagreements over civic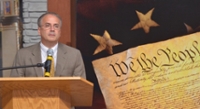 issues are straining personal relationships. Is there a way to engage in discussions about these issues without destroying valued friendships? Nationally-recognized scholar and advocate for civil discourse, Dr. Christopher Phillips, returns to his alma mater next Monday to lead a campus and community dialogue on "Civil Discourse in a Polarized Society."
Open to the entire campus and surrounding community, Dr. Phillips will lead a discussion on how to engage with those who hold different political and social views without anger or hostility. Dr. Phillips, a 1981 graduate of the College of William & Mary, is the author of Socrates Café and Constitution Café, and has led programs designed to engage citizens in productive conversations about divisive issues and how to better understand the perspectives of parties that are in disagreement.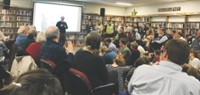 Chris Phillips has presented programs at Harvard, Quinnipiac, the University of Miami, Kansas Wesleyan, James Madison, as well as previous visits to William & Mary.   He is the founder of the nonprofit Democracy Café (DemocracyCafe.org) which has established hundreds of ongoing civil discourse groups the world over, from coast to coast in the United States, as well as Saudi Arabia, Poland, Mumbai, Australia and Japan.
The event will be held in McGlothlin-Street Room 20, and is open to students, faculty and staff of William & Mary, and to the public. It will begin at 5 pm on Monday, March 25. The program is sponsored by the Department of Government and is free of charge. Invite a (former?) friend.