W&M Commencement award winners to join Pres. Rowe for Community Conversation
With the 2020-21 academic year concluding next month, William & Mary President Katherine Rowe will be holding a special Community Conversation with student Commencement award recipients at 3 p.m. on Friday. The participants will discuss the challenges and opportunities over the last year, what they're looking forward to for Commencement Weekend and life after graduation.
Not all award winners will participate in the Community Conversation, but they will all be honored during Commencement Weekend from May 20-23. Here is a full list of this year's winners, with biographical information drawn from award citations:
Lord Botetourt Medal

James Frederic Carr Memorial Cup

Thatcher Prize for Excellence

Graves Award

Sullivan Awards — students

Sullivan Award — non-student
The James Frederic Carr Memorial Cup
The James Frederic Carr Memorial Cup was established in honor of a William & Mary student who served with distinction in the First World War and lost his life before he could return to graduate. The award recognizes the student who best exemplifies character, scholarship and leadership.
The recipient of the 2021 Carr Memorial Cup is Abram Clear '21. Clear will graduate with a Bachelor of Arts in linguistics and anthropology and recently accepted an offer to pursue a fully-funded linguistics M.A. at University of Toronto.
A 2021 Rhodes Scholarship finalist, Clear distinguished himself as a true academic and campus leader. His senior honors thesis focused on the dialect of his family, based in the Appalachian Mountains, specifically on vowel production and perception.
Described as a reflective and enthusiastic student by his professors, Clear transformed his scholarship into leadership and community service on campus. He has served as co-president of the William & Mary's Rainbow Coalition, which is the university's LGBTQ education and advocacy programming board, where he helped to found an ally training program for staff and students.
One professor described Clear as "one of a very few people I have ever known who works every day to make the world a better place."
The Lord Botetourt Medal
The Lord Botetourt Medal is presented each year to the undergraduate student who has most distinguished him or herself in scholarship during their time at William & Mary. In 2021, this honor is awarded to John Kainer '21.
An international relations major, Kainer graduates from William & Mary having fulfilled the requirements of his degree in only three years. In his time here, Kainer has completed an honors thesis on the Hegelian theory of international relations, been selected to Phi Beta Kappa, and was recently admitted to a Master's program at Oxford University, one of the top international relations programs in the world.
One faculty member described the breadth of Kainer's intellectual curiosity and academic achievement as remarkable. He entered William & Mary with a strong interest in international relations, but also distinguished himself as a devoted student of economics, demonstrated by his teaching assistantship in macroeconomic theory. He also studied Chinese language in Beijing and is an accomplished violinist, who has performed as a soloist, as well as with chamber music groups and orchestras.
Multiple faculty members described Kainer as a "true scholar," who is unafraid to take intellectual risks and has sheer joy for learning.
The Algernon Sydney Sullivan Awards
The Sullivan Award, given in the form of a medallion, is in recognition of influence for good, taking into consideration such characteristics of heart, mind, conduct and demonstrating a spirit of love and helpfulness to others. It is awarded each year to two individuals from the graduating student body and to a third person who has a close relationship to the university.
Sonia Kinkhabwala
Sonia Kinkhabwala '21 has exemplified what is meant by the term "active citizen" during her time at William & Mary. A sociology major, with a minor in management and organizational leadership, Kinkhabwala consistently has turned her academic acumen toward impactful projects that have served a broad swath of the greater university community. In 2019, she was recognized for some of her efforts with the President's Award for Service to the Community.
Due to her passion for service, Kinkhabwala has become a constant presence in the Office of Community Engagement. For four years, she has been involved with the Aim 4 civil leadership program. In addition, she consistently volunteers during service days and has as served with the Branch Out alternative break program.
Her longtime passion for the welfare of senior citizens led her to co-found Intergenerational Insights and initiate a COVID-19-inspired program in which more than 150 students signed to be pen pals with senior citizens, at a time when seniors were particularly vulnerable to the pandemic and the isolation that resulted from it.
"Sonia honors and uplifts the experiences of those around her," said one of those nominating her for the Sullivan award. The nominator noted that Kinkhabwala is someone with "a special skill for seeing into places of disconnection and finding authentic and compassionate ways to soothe hurting hearts and restore broken bonds."
Nicholas Agyevi-Armah
Nicholas Agyevi-Armah J.D. '21 emerged as a quiet leader with a tenacious appetite for advancing the interests of others during his time as a law student at the university. He earned numerous accolades from fellow students, administrators and professors for his work as president of the Student Bar Association at the William & Mary Law School.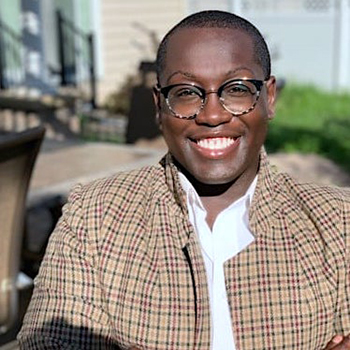 Described as someone who challenged the community to live up to its values of diversity, inclusion and belonging, Agyevi-Armah is a passionate advocate. One administrator noted that Agyevi-Armah's generosity of spirit, good faith and confidence in others' good faith, causes those around him to join together for the common good.
"A rare combination of kindness and strength made Nick an irreplaceable match for the moment," one of his professors said. "You are taken aback by the ways in which he embraces people," added another. "He does not try to be anything special. He just shows up the way he is."
Corinne Picataggi
In addition to her duties as William & Mary's Chief Technology Officer, Corinne Picataggi found herself at the center of the university's efforts to safeguard the community during the COVID-19 pandemic.
Whether creating the university's COVID-19 dashboard and case management systems, offering guidance concerning testing and contact-tracing and ensuring that members of the university community had access to vaccines, Picataggi's contributions were, as one colleague noted, "the glue to our entire COVID-response efforts."
Although Picataggi works behind the scenes, her contributions to the campus-wide COVID Response Team and Public Health Advisory Team have been essential to the university's successful ability to safeguard the community and advance our academic mission during a period fraught with challenges and uncertainties, remarked one of the individuals who nominated her for the Sullivan award.
A co-worked noted that whenever Picataggi was asked to take on a new project, she would always say "We can do this," no matter how great the challenge. Another colleague described her as the "linchpin" in the university's successful response to an unprecedented public health crisis.
While working under stress, Picataggi became known for her ability to manage tasks calmly and to extend that sense of calmness to others. She also was cited as a person who exudes a level of confidence that becomes contagious.
"She's the most positive person, and she has helped us all stay positive when we've dealt with challenging situations," remarked a colleague. Another added that when they think about heart, mind and helpfulness to others—that is Corrine in a nutshell.
Thatcher Prize for Excellence in Graduate and Professional Study
The Thatcher Prize is presented annually to recognize an outstanding student in graduate or professional study. The winner is selected on the basis of scholarship, leadership, character and service.
This year's recipient is Joseph "Joey" Matt Ph.D. '21.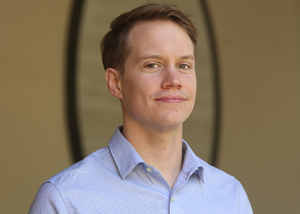 During his time as a graduate student, Matt has distinguished himself as a scholar and a pioneering researcher in the field of shellfish and polyploid breeding, and his work has significant implications for the future of shellfish aquaculture and coastal economies. He is also an active and supportive member of the Virginia Institute of Marine Science community, always willing to help others in need.
Beginning with his time as an NSF Research Experiences for Undergraduates student, Matt has impressed with William & Mary faculty with his focus and professionalism. His REU project that summer resulted in him publishing a paper as a principal author, the first of many papers he would write for scholarly journals.
After working as a Tetraploid Technologist with the Aquaculture Genetics and Breeding Technology Center, Matt began his pursuit of a master's degree. As a Ph.D. student, Matt's research has taken him around the world. He has also sought learning opportunities outside of his chosen field, earning a business management certificate through the Raymond A. Mason School of Business at W&M. As one professor wrote, this kind of "search and learn" behavior has set Matt apart as a graduate student.
Thomas Ashley Graves, Jr. Award for Sustained Excellence in Teaching
The Thomas Ashley Graves, Jr. Award is named for the 23rd president of William & Mary and recognizes sustained excellence in teaching. Recipients are selected annually by the president from nominations submitted by each of the academic deans.
This year's recipients are Robert J. Latour and Judith B. Harris.
Robert J. Latour
Latour is a professor of fisheries science at W&M's Virginia Institute of Marine Science. According to his award citation, he is an interdisciplinary scholar "who strives to gain insights about process-oriented marine science questions and applies the results to advance knowledge and improve natural resource management practices."
He has secured more than $27 million in external funding and authored 72 peer-reviewed journal articles. In addition to his research and scholarship, he serves as a mentor to graduate students and participates in academic program governance and strategic planning at all levels.
According to nominators, his courses have a reputation for intensity — and popularity. He currently advises four students and has advised or co-advised a total of nine master's and 11 doctoral students, while serving on dozens of graduate committees at VIMS and other institutions.
Works published by his lab have led to changes in harvest quotas for fisheries operating in the Atlantic Ocean, demonstrating the connections that he and his students forge between the advancement of basic knowledge and the incorporation of that knowledge into the science/policy forum where decisions are made. His advisees consistently receive competitive external funding and awards for their research, publish in high quality journals and upon graduation, attain jobs in higher education, federal agencies and other sectors.
Judith B. Harris
Harris is the Professor and Pavey Family Chair in Educational Technology at W&M's School of Education. According to her award citation, Harris has a passion for teaching, both doing and studying it. She describes teaching "as identity more than achievement; as lifelong active inquiry more than something that can be listed and enumerated."
Throughout her career, she has studied educational technologies and how they can be integrated in curriculum-based, student-focused ways. She designs learning experiences for her students that engage them in conversation, inquiry, exploration and active learning.
Harris is known for the extensive, formative feedback she provides to students and for helping doctoral students master academic writing for publication. As one student nominator said, "Feedback for Dr. Harris is a two-way street. She collaborates with students on their learning journeys and empowers them to take leadership in navigating that journey."
In addition to her expertise and dedication, Harris brings care and compassion to the classroom with a welcoming and instructional style, her citation says. "This validation is priceless and is symbolic of the human respect and dignity she offers everyone who enters her classroom," a student nominator wrote.
Duke Award
An endowment from Charles and Ann Duke supports an annual award to an outstanding staff member in memory of Mr. Duke's parents, Charles and Virginia Duke. This year's two recipients are Wendy Urbano, manager of academic & degree progress in the Office of the Registrar, and Darlene White, custodial senior worker with Facilities Management.
Wendy Urbano
It's not a stretch to say that any undergraduate student or faculty advisor of those students at William & Mary knows about Urbano's careful, considerate and compassionate work to get them across the finish line to graduating, as a nominator wrote about her work.
As manager of academic & degree progress in the Office of the Registrar, Urbano communicates with these students, with great care and empathy, to make sure they have the information they need to graduate. Her attention to detail ensures the integrity of the W&M degree, with not a credit missed.
Known for her boundless patience and careful attention to detail, Urbano works behind the scenes at William & Mary to keep each student on track, according to nominators. This often involves answering questions for faculty while helping them navigate degree requirements. Building on her earlier years working in the Dean of Students Office, Urbano has served the university for more than 30 years.
"The combination of dedication to service and demonstration of excellence is a foundation to Wendy's success and to her exceptional service to W&M and its students and alumni," wrote a nominator.
Darlene White
Some of William & Mary's most historically iconic and public-facing spaces are a point of pride for White. Her primary job as a custodial senior worker with Facilities Management is to keep them clean and well-maintained.
Through more than 30 years of working at William & Mary, White has been assigned to care for various buildings on campus. Most recently she has been asked to work in the Wren Building and the Brafferton on the Historic Campus as her main assignments, as well as helping with the President's House and other buildings.
White brings her meticulous attention to detail to meet the special needs of the building's many unique features to ready it for its many events and tours. She shows great initiative in both preparation and response to the needs of the building and the events that take place there, according to nominators.
White trains new housekeepers, instructing them on the finer points of Wren Building care. She is keenly observant, rigorous in her duties and responsible to the building and how the whole university uses it, according to a nominator.
Described as "a team player who helps her co-workers," she is always on the go and always cleaning, according to a nominator. She is known for her positive attitude and taking pride in her work, as well as for her dependability and care for others and the university.