Réunion Artists Leave Lasting Impression
The scaffolding went up on Friday. The following Monday, Kid Kreol and Boogie got to work, introducing their street-art aesthetic all the way from Réunion to the ceiling in Washington Hall. Professor Magali Compan (French and Francophone Studies) invited the artists to campus for a five-day visit April 7-12. Their visit was funded in part by the Arts & Sciences Annual Fund.
Réunion is an island in the Indian Ocean, with a rich cultural métissage of African, Asian, European, and Middle Eastern influences. Formerly a French colony, the island is now administered as an overseas department and region of France. All of which makes a perfect case study for Professor Compan's course, "Contested Memories in Postcolonial Francophone Cultures" (a campus COLL 300).
Compan noted that her students "spent the week before the visit examining and discussing work by Kid Kreol and Boogie. These artists are living and creating in what was once the margins of a colonial empire. Now their art, their culture, is a discourse claiming its own centrality."
Kid Kreol and Boogie have worked together since 2008 painting public murals, first as unsanctioned street artists and later as commissioned artists celebrated for the ways their work expresses the cultural history and identity of Réunion with contemporary immediacy and relevance. Their works can be found throughout the Indian Ocean (Réunion, Madagascar, Mauritius, and South Africa) and other places around the world. 
Students prepared some questions ahead of the visit: Why paint in abandoned spaces? How do you feel about the temporary nature of your work? Does working for a museum or special exhibit affect your work?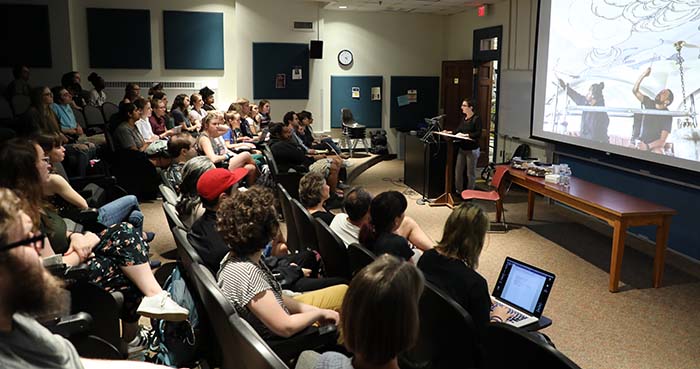 "In class with the artists we had an intense discussion. Students heard from the artists themselves how art, and artistic expression in general, can function as a powerful alternative aesthetic. It was an incredible firsthand experience, providing a kind of understanding that would not have been possible otherwise."
Students from the Africana Studies course "Arts in Africa" visited the mural site and adjourned to a nearby classroom for a presentation and discussion session with the artists. The artists also presented and discussed their work at an event open to the public.
And the ceiling in Washington Hall? Kid Kreol and Boogie persevered throughout the week, gifting William & Mary with an enduring reminder of their transformative visit. Here's a time-lapse video of the mural in process:
{{youtube:large|3IYnsS3LfVU, The making of a mural: Time-lapse video of the work in Washington Hall.}}