Undergraduate Veronica (Roni) Nagle Wins Second Place at Cell Biology Conference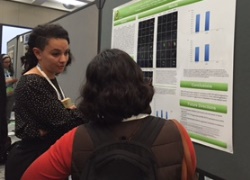 At the end of the Fall semester, amid the rush of anxiety for William and Mary students to complete final exams, undergraduate Veronica "Roni" Nagle '16 (Biology major) traveled with her research advisor Dr. Shantá D. Hinton and her lab-mates Arya Dahal '17 (Biology major) and Christina Stephens '16 (Chemistry major) to the American Society for Cell Biology (ASCB) conference in San Diego, CA. The trip was supervised by Dr. Shantá D. Hinton and Dr. Randy Coleman, and funded by awards through ASCB and the Howard Hughes Medical Institute's Science Education Grant to W&M.
The students presented posters, and Roni received second place from the ASCB Minorities Affairs Committee (MAC) Undergraduates Poster Competition for her involving understanding the protein MK-STYX localization to aggresomes, aggregates of misfolded proteins that are thought to protect the cell. MK-STYX localization to these aggregated bodies that form is important for understanding and characterizing MK-STYX's regulatory role in the stress response pathway and its implications for neurodegenerative disease such as Alzheimer's and ALS.
Attending ASCB was a wonderful scientific and life experiences for these students. This is best stated with Roni's own words,
"Presenting my research was incredibly fun! I chatted with people of all different scientific backgrounds about MK-STYX and it was amazing to experience others engaging with my research and offering ideas on the directions I can take my project. I competed in the MAC undergraduate poster competition and received second place. I am thrilled that others enjoyed my work even half as much as I do!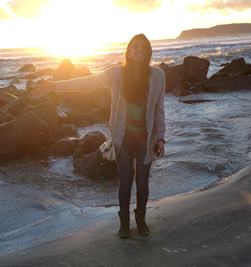 My lab mates and I were in awe of the amount of people and variety of research being presented. We learned from different talks and from engaging others at their poster presentations. We also had a great time getting free stuff and gathered as much free snacks/candy as possible. We took full advantage of the photo booth and achieved Arya's goal of touching the Pacific Ocean. We could also see Mexico!"