Elizabeth Pelletier Wins Best Undergraduate Poster Award from the Midwest Political Science Association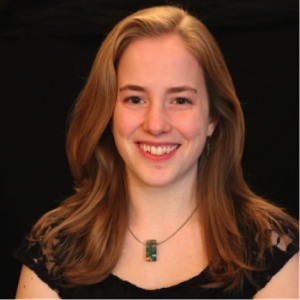 Elizabeth Pelletier, a Public Policy major and 2014 Phi Beta Kappa graduate of William & Mary, has received the Best Undergraduate Poster Award for her poster presented at the 2014 annual meeting of the Midwest Political Science Association (MPSA).  She received the $250 award and accompanying plaque this month at the 2015 MPSA annual meeting in Chicago.
Elizabeth's poster, entitled "Learning in Harm's Way: The Effects of Neighborhood Violence on School Performance," presented results from her Public Policy honors thesis research. Her work uses geo-coded crime data to measure school proximity to violence and investigates the relationship between violence exposure and academic achievement.  She finds that proximity to violence is negatively related to school performance in reading and math, even while controlling for other factors known to be associated with student achievement.
Elizabeth's honors thesis work was supported by a William & Mary Honors Fellowship, which allowed her to work on her research during the summer before her senior year.  Her project was advised by Professor Paul Manna, and Professors Salvatore Saporito and Melissa McInerney provided guidance as members of her thesis committee. 
After graduating from William & Mary, Elizabeth has pursued her research interests through an internship at the Brown Center on Education Policy at the Brookings Institution and continues to collaborate with Professor Manna on several projects.  She has been awarded a Fulbright research grant for 2015-2016, and will complete a yearlong research project on comparative education policy at the University of Toronto beginning this fall.