W&M student wins first place for Virginia outdoor writing
{{youtube:medium:left|ikEAwBUOVe4}}
After she passed away, I often put myself to sleep by tracing the edges of a map of the Chesapeake Bay affixed to my bedroom wall with thumbtacks. The gentle but intricate curves of Virginia's rivers and coastlines reminded me of my grandmother.
So says E. Peyton Smith '16 in "The Heron's Hymn," the essay that recently netted her top honors in the Virginia Outdoor Writers Association's Undergraduate Writing Contest, which recognizes excellence in chronicling the Commonwealth's natural world.
The essay is less than 1,000 words, but in it Smith, an environmental science and government major, recounts finding solace from her grief at the loss of her grandmother and inspiration in her memory.
But originally, Smith wasn't planning to enter the contest. She was just writing to process her mourning. "But when I finished, I thought I might as well submit it," she said. "It was complete and followed the rules, so I threw it out there. So winning was a surprise."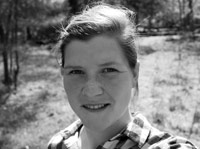 The essay deftly weaves together Smith's love of literature, her garden, Virginia's geography and the advent of spring in a tale of loss and recovery. Her ornithology class under Biology Professor Dan Cristol and subsequent migratory bird sightings figure heavily.
"As the days grew warmer, I anticipate my professor's daily announcement about which warblers had migrated through the night and made it to his neighborhood," she wrote. "He described their sweet songs, a sensation that I regret never fully appreciating until the year my grandmother died."
"Teaching ornithology is already the favorite part of my job because it's a fusion of my love of teaching in an intimate setting, my professional research interest in the biology of birds and my own aesthetics-driven hobby of birdwatching," Cristol said. "To later find out that a student in the class was affected in a way that goes way beyond my expectations is really a special thing. We don't do creative writing in that class, so I had no idea that Peyton was such an amazing writer."
The way he found out made it that much sweeter. A colleague from another university was in the audience at the conference in Charlottesville where Smith read the essay aloud. "And he called me and said he thought it must have been my ornithology class that was mentioned in the essay," Cristol said.
Smith was awarded $100, and her essay will be published in
Cooperative Living
magazine, which also sponsored the competition. In addition, she was a finalist for the Virginia Outdoor Writer's Association/Hunt's Outdoor Photograph competition.