'Premeditated Perfection': Staged reading, discussion of student's play Sunday
William & Mary students on Sunday will present a staged reading of "Premeditated Perfection," a play written by Tess Higgins '15 that focuses on "the toll of excessive college-age pressure" and "explores what happens when the desire to succeed and maintain control are at an all-time-high, and concern for one's own well-being is at an all-time-low."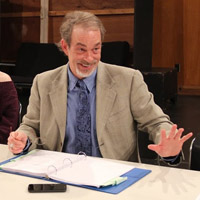 The reading will be followed by a discussion moderated by a representative from Bring Change 2 Mind, a nonprofit organization started by W&M alumna Glenn Close '74 to combat stigma and discrimination around mental illness. The reading begins at 7 p.m. in Phi Beta Kappa Hall.
Higgins, a double major in sociology and theatre, said that the subject of the play is a timely one.
"This play is incredibly relevant as we approach finals because it is a statement on the pressure we feel at a high-powered university to always be the best and the smartest, sometimes at too high a cost," she said. "In addition to the content, I think it would be an asset for students all over campus to come and enjoy something written and performed by their peers."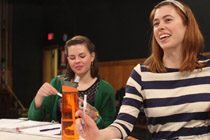 The play focuses on Maggie Howerton, "the intelligent and overachieving captain of Potomac University's academic team," as she faces multiples challenges. Howerton and her teammates are humiliated when a loss at a major competition leads to a cut in funding. When a snowstorm causes the national competition to be rescheduled, Howerton's team is allowed to reenter the competition and have a chance to get back their funding – if they win.
"With only three days to prepare, and a substitute team member on their hands, Maggie suggests a more conventional, strategic method to success, while the other students consider cheating their way through the competition," a synopsis of the play says. "With the added pressure, Maggie's calm and collected leadership style begins to crack, wreaking havoc among her relationships, as well as the status of the team. Though her teammates seem desperate for the win, their ambition is no match for Maggie's unwavering determination."

The play was originally set to premiere at William & Mary earlier this month, but a few days before the performance, one of the students involved in the production, sophomore Paul Soutter, completed suicide.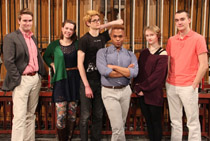 "I hope the reading can be a place where we can remember Paul and his wonderful part in the art we created together," said Higgins. "He played one of my favorite characters I've ever written, and even though I am terribly sad he can't be here to say the words he said so well, I know that no matter where this play goes in the future, he had a role in bringing it to where it is today, and his handprint will always be on it.
"I hope the reading will be a place where the community can consider our society's struggle with the 'perfection problem,' as well as think about how some people deal with issues that aren't directly related to school stresses or pressures, and I think it is important to separate the two."