Classical Studies Students Present Conference Papers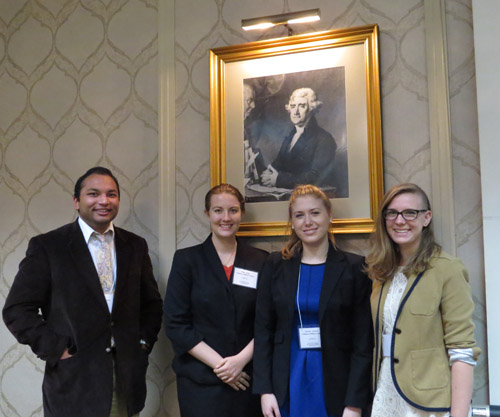 Four W&M seniors in Classical Studies presented papers on their research at the latest meeting of the Classical Association of the Middle West and South - Southern Section, in Fredericksburg on October 16, 2014.
The papers embody the breadth and sophistication of the original research our students do:  Tejas Arelare ('15) dealt with early Greek philosophy in his talk "Must Atomism Require Atheism"; Victoria Jansson ('15) spoke on Latin poetry in "Feta Armis: Pregnancy in Vergil's Aeneid"; Maura Brennan ('15) presented the results of her research in Greek vase painting with "An Examination of the Donkey Rider Iconography"; and Callie Angle ('15) spoke about her investigations in near eastern archaeology in her talk, "Bringing Rome into the House:  A Study on the Palaces and Complexes of Herod the Great at Masada and Caesarea Maritima".  
The panel at which the students spoke, entitled "New Voices and New Insights: A Microcosm of Scholarship in the Classics", was organized by Prof. Georgia Irby, who also mentored the students in preparing for their presentations.