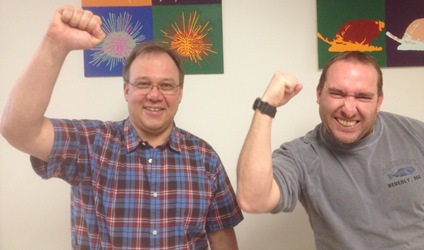 Congratulations to Dr. Jon Allen and Dr. Matthias Leu for recieving tenure this year! Fellow faculty members from the Biology Department toasted them and enjoyed cakes designed for their disciplines. A berry sea urchin cake represented Dr. Allen's research on echinoderm development, and a chocolate peppermint cake featured ticks frolicking in a forest to illustrate Dr. Leu's work in conservation biology.
As shown in our news archive, both newly tenured faculty have developed research programs that involve hands' on experience with undergraduates. Read about Allen's work with echinoderms and the Marine Science Minor in the news story "Invertebrate Love", and learn about how Leu's students worked at ecological and molecular scales in "Student Researchers Track Tick-Born Disease". 
Jon Allen and Matthias Leu were promoted from Assistant to Associate Professor of Biology, and granted research sabbatical for the 2015-16 academic year.