A cornerstone of the W&M biology major experience is the chance to be involved in cutting edge research. Many students choose to stay at the College during summer to devote their energies to research across a wide spectrum of studies. The Summer Research Showcase, organized by the Charles Center, gave biology students and undergraduates from other departments a forum to present their work to the campus community.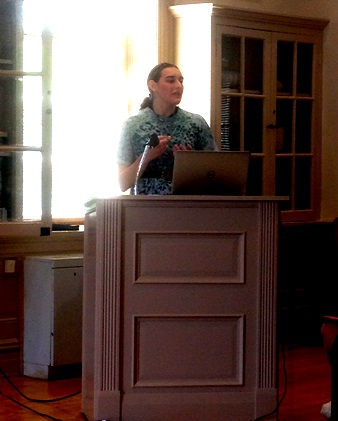 A maze of posters greeted visitors in Blow Hall, each labyrinthine turn promising new and exciting discoveries. Here, undergraduates came out in force to represent the Biology Department.
Mary Stern '15, of Professor Lizbeth Allison's lab, discussed her investigations into nuclear cytoplasmic shuttling of thyroid receptor (TR) with interested passers-by. Stern's intracellular research was on a tiny scale, for even molecular biology research, yet she related the extra-small to the everyday by pointing out the importance of the pathway.
"If you can figure out the import/export pathway of the full nuclear cytoplasm shuttling pathway of TR, then you can figure out how expression relates to normal maintenance of health" she pointed out.
Stern added that her research complemented what she was learning in the classroom.
"My research gives a real world context that makes [these processes] relevant to daily life," she said.
Nearby, Kimi Zamuda '16 took a bigger approach, using occupancy estimates and detection probabilities to improve methods of surveying wildlife, namely, frogs. Zamuda went out nightly this past summer under the tutelage of Assistant Professor Matthias Leu to listen for different frog species at locations ranging from Richmond to Hampton Roads.
"It's a really good initial step, a really good experience" she noted of her research opportunity.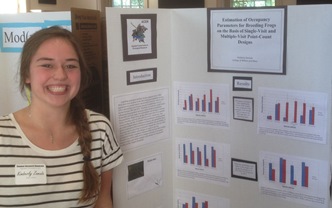 Across the room, Melissa Hey '15 described how her research on milkweed density relates to its response to herbivory. Hey's project, an Honors Thesis advised by Professor Harmony Dalgleish, combined field experimentation on milkweed plants with chemical analysis using high-performance liquid chromatography. The interdisciplinary nature of Hey's work taught her how to fit together different ideas to discover new ones.
"I developed important problem-solving skills through research- it's amazing!" she said.
Some students branched out even further, going around the world for their research. Molly Teague '15, also of Professor Leu's lab, did her upperclassman Monroe project at the U.S. Department of Agriculture European Biological Control laboratory in Montpelier, France. While in Montpelier, she researched control mechanisms for the invasive species Lepidium draba. Teague highly valued the experience of seeing another research lab around the world.
 "It's neat to see how labs function in different settings… there's so much collaboration between labs all over the world- it was really cool to see how that worked," she said.
Having joined her on-campus lab at the start of her freshman year, Teague noted the importance of putting oneself out there in order to join a research lab.
"Expose yourself to as many research related experiences as you can… the more you hear about what professors are doing, the more likely something will spark your interest" she added.