Richard Price Receives Premio Internacional Fernando Ortiz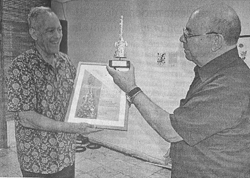 In a gala ceremony held on September 29 in Havana, Rich Price, Professor Emeritus, was awarded the Premio Internacional Fernando Ortiz, one of Cuba's highest honors.  The award, presented by Miguel Barnet of the Fernando Ortiz Foundation, was a lifetime achievement award in recognition of his work about Afroamerica, specifically his work on the maroon communities of the Caribbean, Surinam, Brazil and elswhere in the Americas.  Dr. Barnet noted the work of Richard Price and others in establishing the presence and importance of a vivid and widespread 'historical consciousness' among a variety of AfroAmerican communities which were, not so long ago, held to be 'ahistorical' and without a self-conscious history.  The Foundation was named in honor of one of Cuba's foremost anthropologists and students of the Afro-cuban experience, whose own work influenced that of Professor Price.  In addition to citing Prof. Price's work in original research and comparative studies, the occasion also honored Professor Emeritus Sally Price in recognition for the role she has played with her husband and in her own right in the recognition of subaltern cultures.
Nor is that an end to the celebratory focus on the Prices, who retired from teaching at William and Mary in 2010.  As they wrote in a recent note:
"If you see two figures on the horizon mounted on old nags, making their way slowly across the countryside, it may well be the two of us, since the French Minister of Culture recently decorated us as Chevaliers de l'ordre des Arts et des Lettres (knights of the literary realm) for our 'significant contributions to anthropological research and the development of critical thought about museums.'  "