Braithwaite Lecture features two graphic novel authors Tuesday
The 19th annual Braithwaite Lecture at William & Mary next week will feature two graphic novel authors presenting "Queer Comix," an artist talk and slideshow. The event is free and open to the public.
Appearing are Nicole J. Georges, author of Calling Dr. Laura: A Graphic Memoir and A.K. Summers, author of Pregnant Butch: Nine Long Months Spent in Drag. The lecture will be held at 6:30 p.m. on Tuesday, Feb. 24, in Andrews Hall 101. It is sponsored by the Gender, Sexuality and Women's Studies Program and the Margaret Gove Memorial Endowment.
"We've never had somebody do a creative reading for the Braithwaite," said Jennifer Putzi, GSWS director and associate professor of English and gender, sexuality and women's studies. "We're used to having an academic lecture."
But the appearance seemed to be a natural extension of the "Introduction to Gender, Sexuality and Women's Studies" class curriculum, she said, which has students reading graphic novels Persepolis: A Story of a Childhood and Fun Home: A Family Tragicomic.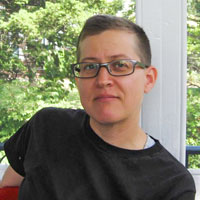 "It gives students a break from the heavy reading in class," she said. "But also, people interact with visual information in different ways – the visual strikes you in a different way. It's interesting to students to slow down and see how the text and graphics work together.

"And in terms of gender identity, the visual is really important. It would be one thing to represent the experience of a pregnant, butch woman in a novel. It is another to do so in a graphic novel, where her 'butchness' is emphasized by the images."
Putzi is known on campus for her "geeky interest in comics," she said. So it's no surprise she also launched a one-credit course this semester, "Queer Comics," which explores LGBTQ issues in comic books and graphic novels, culminating in the Braithwaite Lecture. Helis Sikk, American studies doctoral candidate, is co-teaching the five-week class, during which students read six assigned comics, graphic novels or compilations and ultimately propose their own graphic novels featuring LGBTQ characters and issues.
"[Students] are really hungry for this material," Putzi said. The class spans two hours a week, but the time flew by in the first session. "We could have talked for hours."
Graphic novels are inviting increasing academic interest as an art form and as a unique way to tell stories, especially those of historically under-represented populations. Art Spiegelman's Maus, after winning a Pulitzer Prize in 1992, is often credited as a turning point in public and academic reception of graphic novels.
William & Mary Associate Professor of History Ronald Schechter used a modified form of a graphic novel in 2013 with his book Mendoza the Jew: Boxing, Manliness and Nationalism. Sometimes even the reviews are done in comic-book style, as the L.A. Review of Books did when it reviewed Mendoza the Jew.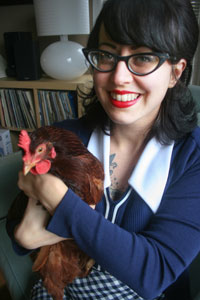 Because graphic novels are fluid in definition ("comic books – but not"), they aren't easily pigeonholed.  Pregnant Butch, for example, focuses mainly on the under-represented experience of lesbian pregnancy, but has been celebrated on straight motherhood blogs, Putzi said, for Summers' accurate representation of the travails of pregnancy, like trying to find public restrooms in New York, struggling with insurance companies and settling on birthing options.

Georges' memoir recounts her romantic life as a young lesbian in Portland, but the graphic novel is equally weighted with her struggle to make sense of her family-of-origin as she unravels its secrets. Putzi characterized it as a "sweet, coming-of-age story."
"The books are very different," Putzi said. "The two of them together thwart the idea that there is one lesbian graphic novel."
Georges is a prolific writer and illustrator whose oeuvre includes diary comic Invincible Summer, the zine Tell It Like It Tiz, and Calling Dr. Laura. Georges teaches at California College for the Art's MFA in Comics Program and has won numerous awards, including the Sunburst Award for Excellence in Arts Education.
Similarly prolific, the longtime artist and writer A.K. Summers is best known for creating the zine Negativa, animated shorts "Topless Dickless Clueless" and "World Without Femmes," and the graphic memoir Pregnant Butch.
The annual Minnie Braithwaite Lecture commemorates Minnie Braithwaite's courage in attempting to become the first woman to attend classes at William & Mary in 1896.