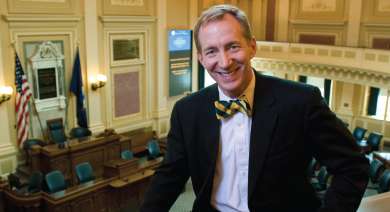 The view from the office of G. Paul Nardo '88 is an enviable one.
To the north it's of the green lawn of Virginia's Capitol Square and Richmond's Old City Hall. To the east his view is of the Executive Mansion.
But this picturesque sight is currently obscured by two green cherry pickers, the latest encroachment on the Capitol by director Steven Spielberg. The blockbuster filmmaker has taken over a chamber of the Capitol building for weeks while shooting his film about Abraham Lincoln. For Nardo, whose office is on the third floor, it's made the work day a bit more interesting.
"I feel like I should go to a Guns N' Roses concert," he jokes. The filmmakers obviously don't know that Nardo was recently elected clerk of the House of Delegates, a position that oversees the running of half of Virginia's legislature.
Nardo grew up in a small steel mill town called New Cumberland, W.Va., situated in the northern panhandle of the Mountain State. When it came time for college, he knew exactly where he wanted to go.
"I love the atmosphere," he says of the College. "I love the boxwoods and the campus. I love that you actually get to know your professors."
Nardo says he still keeps in touch with a number of his college instructors, including Joel Schwartz, Ron Rapoport, Clay Clemens '80 and John McGlennon.
"Paul was always a very interested student," says McGlennon, chair of the government department. "He gave the strong impression of someone who knew how to get things done, and he was very pragmatic. It's a delight to see him obtain such stature."
A government major, Nardo worked his way through college at the school cafeteria and as a waiter at Berret's. His sophomore year he had a failed bid for student body president. After losing, he decided it would be the perfect time to study abroad in England at the University of Bristol.
After graduating in 1988, he began working as a legislative assistant for the late U.S. Representative Herbert H. Bateman '49 (R-Virginia), later becoming his legislative director.
In 1994 he became the chief speechwriter for then-Gov. George Allen. Nardo wrote more than 1,000 speeches for Allen, including four live televised State of the Commonwealth Addresses. Allen later became a U.S. senator, and is currently running for the Republican nomination for that seat against Jamie Radtke '98.
While working for Allen, Nardo met Mary Augusta Barham, the governor's confidential assistant. They married in 1996, and she followed Allen to McGuireWoods when his term was up. Nardo served for four years as the director of communications for the State Council of Higher Education for Virginia before deciding he needed a change. Then he received a call from Virginia House of Delegates Speaker William J. Howell, asking if Nardo would be his chief of staff.
"He was my right hand man for nine years," says Howell. "He is a very special person, and an excellent writer."
"Some people call [Howell] the Bob Newhart of the podium," says Nardo. "He's got a quick wit."
During a crisis in the Middle East, a representative from the French government gave a speech referencing the Revolutionary War and what America owed to the Marquis de Lafayette.
"The speaker just goes 'Well, I'm glad we had that. Probably the last time they really helped us,'" Nardo recalls. The representative got up and left the room.
On June 9, 2010, Nardo was elected to his current position as clerk for the House of Delegates.
In this new position he ensures that all constitutional, statutory and policy requirements at the General Assembly are adhered to, certifies all acts of the legislature and maintains the official records of legislation. From rules changes and orienting new members to deciding who gets which office, Nardo is the one making sure everything runs smoothly at the House.
This article first appeared in the William & Mary Alumni Magazine. Full article available at the W&M Alumni Association.