Hans Goff '05: Energizing the Electorate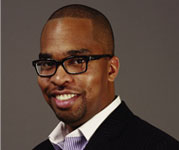 Hans Goff '05 has worked with some big names in the entertainment industry, including Questlove from The Roots and Michael K. Williams from The Wire. But he's not just some Hollywood bigwig; if anything, a better title for him might be political junkie.

That's because Goff is the founder of Voting Works, a political consulting and management firm that aims to energize often-underrepresented voting constituencies through partnerships with knowledgeable celebrities. For example, Goff worked with Questlove to promote the re-election of New Jersey governor Jon Corzine in 2009. One video Goff produced with Questlove focused on how and when New Jersey residents could make their votes count through an online state voting resource.

"Voting Works is a voter education initiative," Goff says. "That's what I like to call it, because more than just getting celebrities to come out and stump with the candidates, I think it's important that they add something and contribute."

Goff has been contributing to the political process since he was a teenager. The New Jersey native went to work for the mayor of Trenton after his sophomore year of high school. Goff remembers that his first job for the mayor involved answering phones: he answered citizens' concerns that ranged from fixing potholes to helping a parent find an appropriate summer camp for their child.

"For me, I was interested because it was problem-solving," he says. "I was somewhere where I felt like I could get something done because I had the resources of the mayor's office right there. I remember coming home and telling my parents that if I wasn't getting paid, I would still go back every day for the work."

During his senior year of high school, Goff interned for Harvard Law School professor Charles Ogletree Jr. at the Criminal Justice Institute. "I didn't know how big he was at the time," Goff remembers of his first meeting with Ogletree at a Bar Association convention he attended in Philadelphia. "He taught me a lot, and I made so many important connections through him. He's how I started networking."

Goff continued to build his political network while a student at William and Mary. In addition to taking on a hefty academic load as a double major in government and African-American studies, he spent his junior and senior years working for the Virginia governor's office. "I always had to balance the real-world politics with trying to graduate on time," he says with a laugh. "I would go into class with a suit and tie and do all of my classes in the morning, then be done by 11, jump on the highway, and go to Richmond to work from 1 p.m. to 5 p.m. three days a week."

It was at William and Mary that Goff also gained experience working with musical artists. While an undergraduate, he paired up with the College's Center for Student Diversity to bring Talib Kweli and John Legend to campus. In addition to his tenacious personality, it didn't hurt that Goff had star power on his side. "My godmother is actually Patti LaBelle," he admits.

Goff's role as a regional field organizer for the Democratic National Committee during President Obama's 2008 campaign gave him the opportunity to network with current Voting Works' consultant Kwasi Asare. Asare has extensive experience in the music industry as the mastermind behind Sean "Diddy" Combs' Bad Boy Records. For Goff, it was precisely the connection he needed to get an initiative like Voting Works off the ground. "I really just connected with him, and for something like Voting Works to work, I need relationships with people in the music industry," Goff says. He used another close connection when putting up a website: classmate She Hall '05 of Sushe Design.

Looking forward, Goff hopes to energize what he considers a fatigued and marginalized constituency to give Democrats an edge in the upcoming 2012 elections. "I'm really trying to target Hispanic and African-American communities in larger cities and metropolitan areas," he explains. "There's definitely a strong connection between artists — whether they're musicians, actors — and political involvement. I don't work with every artist; I work with artists I know can speak to a given issue, who care about the communities they come from."

To view Questlove's video for Voting Works, go to www.youtube.com/watch?v=iNrm9c7eskc.
This article first appeared in the William & Mary Alumni Magazine by the W&M Alumni Association.