Neal Cary Performs Saint-Saen's Piano Concerto No. 2 with the Richmond Symphony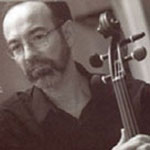 Neal Cary, adjunct professor of cello and chamber music at the College of William & Mary performed the Cello Concerto No. 2 by Saint-Saens on November 13 and 14 with the Richmond Symphony.  Unlike the well-known and widely performed 1st concerto by Saint-Saens, the 2nd concerto is rarely performed due to the extremely difficult technical passages in the solo part.  In a review on
http://letterv.blogspot.com/
of the November 13 performance , Clark Bustard wrote:
"Neal Cary, the symphony's principal cellist, played the Saint-Saëns with robust tone and high-romantic phrasing, to especially lyrical and loving effect in the andante sostenuto section concluding the concerto's first movement. Cary, Smith and the orchestra nicely balanced the concerto's romantic spirit and its almost Beethovenian classicism, rarely so neatly distilled."
Previous to the performances with the Richmond Symphony, a performance with piano along with a video lesson on this work was professionally videotaped.  These videos will be posted on YouTube in early January.  Later in 2011, Mr. Cary plans to release an edition complete with fingerings, bowings, and ossias for those difficult passages in the solo cello part.  To date, there has been no public video performance of this work, nor has there been any edition available for this concerto.  It is his hope that these efforts will result in more performances of this great work. 

Neal Cary is the Principal Cellist for the Richmond Symphony and the Eastern Music Festival and Adjunct faculty at The College of William & Mary.