For John Gerner '80, Life is a Rollercoaster
If you are a fan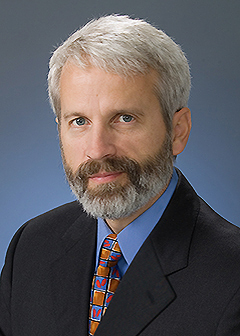 of log flumes or simulators, theme parks or snow domes, chances are you have encountered some of the work of John Gerner '80. In a career spanning the last 30 years that began while a student at the College of William and Mary, Gerner has provided expert advice and analysis for leisure attractions around the United States and across the world.
Gerner's interest in the leisure industry had humble beginnings. As a student at William and Mary, Gerner worked part time at Busch Gardens, a familiar diversion for local students and residents of Williamsburg. Working as a ride supervisor at Busch Gardens had him operating the Wildcat Rollercoaster and the Log Flume, and one summer while working Gerner made a new goal for himself.
"In the summer of 1978, I decided I was going to learn how to operate every ride in the park," he  says chuckling. "And you know what? I did it."
He loved his job at Busch so much that he held onto it through senior year at William and Mary, even while struggling to finish a grueling academic schedule that included a 37 credit-hour crush as well as winter courses at Virginia Commonwealth University. Gerner credits the challenging academic environment at William and Mary for inspiring him to succeed in his chosen career.
"I always thought of philosophy as a process," he says. "And in the workplace you can use that procedural manner of thinking to work through issues."
After graduation, Gerner began working as a high school teacher at Powhatan High School just outside Richmond, Va. with the intention of also continuing to work at Busch Gardens.
As he puts it, "I thought that as a teacher, I could have my summers free, so I could keep working at Busch. Turns out that teaching was a lot more of a full-time job than I had originally believed."
Gerner left his job as a teacher at Powhatan High after one year to get back to work at Busch Gardens, but he left with something else as well.
"I think that experience really left me with an great appreciation of what teachers do." He says,  "It certainly is a challenging job."
Gerner started working full-time at Busch Gardens in January 1982 as a productivity improvement supervisor and never looked back. In 1984, he began working for a leisure industry consulting firm, and several years later he became president of Berkshire Ridefilm. During the time he was at the helm, Berkshire Ridefilm produced the simulation film for "Back to the Future — The Ride," the extremely popular ride that was featured at the Universal Studios theme parks in Florida, Hollywood and Japan. The ride is fondly remembered by a generation of visitors and entertained visitors from 1991 until closing in both California and Florida in 2007.
After his experience with Berkshire Ridefilm, Gerner decided to go into business for himself, forming Gerner Consulting in 1991, and providing consulting services to the leisure industry around the world.
His business has taken him everywhere because, as he puts it, "Young people around the world are very similar, and what they like in the U.S., they are going to like in Mongolia as well."
That's good news for Gerner, since his work has taken him to Mongolia. It has also taken him to Lebanon, China, Morocco, Egypt and Dubai, to name just a few countries where his consulting services have been employed. The different countries can provide different challenges that may not be obvious to most Americans. For example, while working in Saudi Arabia on a theme park concept, Gerner had to take into account Saudi sensibilities.
"In Saudi Arabia, young men and women are not allowed to mingle in the way they do in the United States, so the park had to be built appropriately." Gerner says.
That included planning sail-like structures to separate the single men and women that were visiting the park.
Gerner believes that the U.S. has reaped the benefits of being the long-time leaders in the leisure industry, saying that "In general, we are very fortunate as Americans, because we are respected world-wide as leaders in the field"
The countries of the Middle East provide a significant amount of business for the leisure consulting industry in the United States, as those nations flex their newfound wealth and try to come up with ways to entertain their expanding middle class. Dubai in particular has been at the forefront of designing new leisure concepts, most famously the "Snow Dome" indoor ski slope, quite a novelty in the middle of the Arabian desert. For Gerner, the innovation that he has seen in the Middle East indicates a shift in where the newest ideas in theme parks and tourist attractions can originate.
As he puts it, "Quite simply, the U.S. is not always going to be the first to have new leisure projects. We're going to have to get used to that."
More recently, Gerner has been working closer to his home in the historic area of Richmond Va., as Leisure Business Advisors (formerly Gerner Consulting) has been employed by the Fort Monroe Authority to help lay the groundwork for the planned redevelopment of the Fort Monroe area in Hampton, Va.
"There is a variety of potential attractions in the area, including some very nice natural areas and beaches," he says. "So in addition to looking into building a visitor's center, we also looked into the possibilities of those natural areas as well."
So next time you are visiting a tourist attraction, visitor's center or theme park, take a good look around. You may be enjoying some of John Gerner's work. "All I need is a location and a concept," Gerner says, "and I can come up with a theme park."
This article first appeared as a "Tribe Spotlight" feature by the W&M Alumni Association.