In Pursuit of the "Great Equalizer": Matt L. Taylor '08
Matt Taylor graduated with a major in Government. This article first appeared in the 2010 President's Report.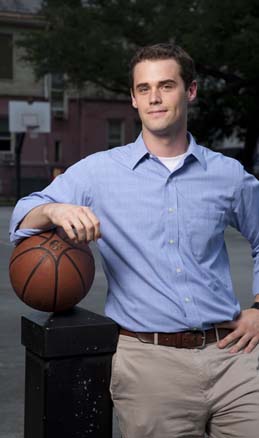 Soon after completing a two-year term with Teach for America, Matt Taylor '08 received a phone call he'll never forget.
"I got a call from a student who had started the previous year not believing in himself," recalls Taylor, who taught eighth-grade English to kids four to eight years behind their age levels in a New Orleans alternative middle school. "By the end of the year, he had become co-captain of the basketball team I helped coach and had the self-confidence he needed to be successful."
Taylor guided that young man through the process of applying to a new charter high school in New Orleans, where he was subsequently accepted. "He was beaming on the other end of the phone when he called from orientation, telling me he felt like he belonged there," Taylor recalls. "I know I'll never forget that student."
After completing his two years of teaching in New Orleans, Taylor calls the experience both extraordinarily challenging and gratifying. "I feel like I gave students a new look on education," he says. "I made it my goal to expose them to high school and encouraged them to work toward finishing school."
Taylor says William & Mary impressed a strong spirit of service upon him – a spirit that guided him in his work with Teach for America. "William & Mary does a great job of instilling a sense of community and collaboration in students," says Taylor. "The College opened my eyes to the realities of the world. It gave me the skills to combat injustice, to focus on service and to give back."
Taylor is obviously not the only one who heard this calling at his undergraduate alma mater. For three consecutive years, William & Mary has ranked among the top contributors to Teach for America, and the student population's instinct to serve is reflected in the College's top ranking for service in Washington Monthly's 2010 annual college guide.
Currently, Taylor is working as a Teach for America recruiter. He knows more education is in his future – perhaps a master's in public policy or law school. Whatever path he follows, he is certain of one thing:
"I know I'll be fighting for equality and against injustice," he says. That's what drew him to Teach for America in the first place.
"In my mind, education is the great equalizer," says Taylor. "Not everyone has access to equal educational opportunities, though." He believes that's a serious problem – a problem he plans to help solve, thanks in part to the inspiration he received at William & Mary.