Would the Real Builders of Colonial Quito Please Stand Up?
This article first appeared in the 2010 President's Report. Photography by Hernán L. Navarette, Jody Green '11, and Kate O'Brien '11.

THE MISSION: To go where few – or no – art historians have gone before.
THE CONTEXT: Quito, the capital of Ecuador, former center of a colonial audiencia (kingdom) and the world's first city to be named a UNESCO World Heritage Site due to its well-preserved art and architecture.
THE PARTICIPANTS (so far): Jane W. Mahoney Professor Susan Webster (Art and Art History, American Studies) and undergraduate students Jody Green '11, Kate O'Brien '11, and Erin Sexton '11.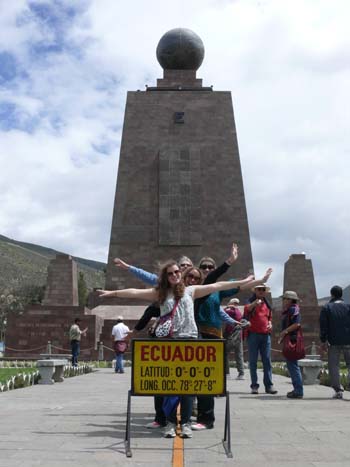 Nestled high in the Andean mountains atop the ruins of an Incan city, Quito has long been extolled as one of South America's historical and cultural treasures – but only recently has its art, and that of Latin America as a whole, risen to the fore in both scholarship and public interest. Professor Webster is on a lifelong trek to uncover the true nature of those who built the city, and she handpicked three William & Mary students to join her in a segment of that journey this past summer.
Through original, firsthand research, the students will unveil wholly new knowledge about Quiteñan art – new to scholars, the public, and even the people of Quito. With possible implications for other Latin American cities and multiethnic regions, their research advances Webster's pioneering scholarship on indigenous master builders and artists – whose roles she and other scholars believe have been mischaracterized and under-recognized by most historians of the past century.
"Histories of colonial Latin American architecture [and art] frequently celebrate the essential role of indigenous construction workers," Webster wrote in March 2009 for an article appearing in the Journal of the Society of Architectural Historians. "However, characterizations of this process tend to present a starkly delimited image of native artisans laboring under the direction and control of Spanish or European masters."
On the contrary, Webster says, a systematic examination of the archival evidence suggests that native artisans contributed at a strikingly high level to the planning and building of the colonial city, where they held a surprising "potential for upward economic and social mobility."
"Given the overwhelming majority of native and mestizo [descended from mixed blood, including indigenous] artisans, their skill and tenacity," Webster surmises, "one could justifiably state that they were responsible for the construction of colonial Quito – a legacy that continues in many ways today."
According to Professor Kris Lane (History), who specializes in Latin America and is editor of the interdisciplinary journal Colonial Latin American Review, Webster's work is indeed playing a central role in overturning long-held opinions about the character of an entire city.
"What Professor Webster is doing is showing us that Quito is not the Baroque 'Spanish' city that past art historians have long made it out to be, but rather a Baroque indigenous one – a hybrid city, whose identity was truly betwixt and between."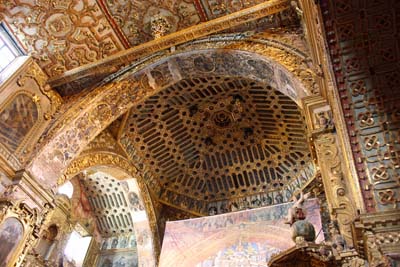 Searching and Researching
Dubbed the "cloister of the Andes" because of its wide array of monasteries, churches and other religious centers, it is no wonder this city of approximately 1.4 million inhabitants – a large majority of whom have some indigenous blood in their family trees – is richly adorned with art and architecture. One author, writing more than half a century ago, singled out Quito for this very reason: "Without exaggeration, few South American cities can offer for contemplation and study colonial relics of such quantity and such quality as the City of San Francisco de Quito," wrote Benjamín Gento Sanz for The Americas in an April 1946 article.
Indeed, Quito's survival as the largest, most intact colonial town in the Americas is a prime reason for its special recognition from UNESCO.
Despite its reputation, the vast majority of Quito's abundant works of art and architecture – and the secrets they hold about the pre-colonial, colonial and even modern-day periods – have never been researched in-depth, if at all.
"Prior to the arrival of the Europeans, Andean cultures had no form of alphabetic writing," Webster explains. "As a result, art and architecture were perhaps even more potent forms of communication." These communication modes tell us much about the way the Andean and European cultures coexisted and interrelated – providing a microcosm that can inform other mixed-ethnicity countries.
"The inequities and inequalities that have characterized Ecuadorian society, particularly with respect to native people, are just as present in the United States," Webster says, noting that Ecuadorians constitute the ninth largest source of Hispanics living in the United States. For the past 15 years, Webster has been traveling regularly to Quito to conduct research; in the process, she has published multiple books and articles on her findings. She has also amassed an enormous collection of digital photographs cataloguing the artistic works in the city yet to be fully explored or matched up with archival documentation. This collection, Webster says, is far too large for one person to research in a lifetime.
Enter: William & Mary students. By assigning each student an item in her trove, Webster hoped to make headway on the research – while giving students valuable hands-on experience.
"This project is an attempt to provide students with the experience of sustained engagement in humanistic research," she explains. "Unlike the typical 'term paper,' which culminates with the end of a semester, this project is designed in five phases that build over the period of more than a year: a Spanish paleography course [to learn how to transcribe the archival documents, which are handwritten and in Old Spanish]; field research in Quito's archives; library research using secondary sources; framing questions and writing up results; and textual refinement for submission to a national peer-reviewed undergraduate journal."
Daunting? Just a little. But thrilling, too, according to the three students taking part.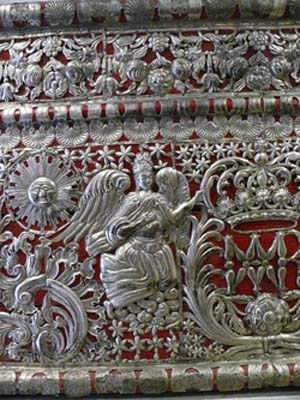 "We're researching completely untapped sources, so it's both hard and intimidating," says Kate O'Brien '11, reflecting on the particular difficulty of tracking down information about her own object of study – an elaborately worked silver frontal in the Cathedral of Quito whose author is not definitely known. Even the suspected artist, O'Brien explains, is virtually unknown, and she has been hard-pressed to find references to him in the archival documents, much less published texts. Further complicating her research, once she got to the Cathedral, O'Brien found not one but many silver altar frontals – and it wasn't immediately clear to which one her notarial contract refers.
Challenges such as these are inevitable when encountering primary sources for the first time, and that is one of the greatest benefits for students. "The only way to find documents [about these specific works] is to actually look through the books in the National Archives [of Ecuador, located in Quito] in person," Sexton says, agreeing that "the firsthand experience of being there and seeing everything is impossible to recreate."
Valuable Discoveries
According to Webster, the research she and students are conducting is not only helpful for filling in the historical record but may also benefit modern-day Quiteñans.
"Many of my Ecuadorian friends complain that one of the country's greatest problems is that it has no sense of national identity," she says. "The legacy of the colonial period hangs over it like a black cloud. To valorize indigenous contributions in the colonial period brings some 65 percent of the population into the picture and locates them as active historical agents in their own country." In addition, their research could be informative for countries sharing similar heritages of multiple ethnic groups – including the United States, as well as other areas of Latin America.
"The abundance and importance of native masters in Quito may not be unique among other colonial Latin American urban centers; however … circumstances elsewhere remain to be investigated," Webster noted in her March 2009 article.
Webster is not the only one to argue that individual indigenous artisans played a larger-than-believed role in building colonial Quito; however, Lane contends, she is unique for her insistence on exhausting the archives for tangible proof of the claim.
According to O'Brien, having a persistent, seasoned scholar like Webster overseeing their work was crucial to the success of the students' 10-day trip to Quito in June. "She describes the archives as being like Christmas every day – you never know what you will find," O'Brien explains, reflecting on the importance of her professor's excitement, expertise and familiarity with the archives from past visits. Without Webster, O'Brien says she would not have known where to start with the voluminous archival records – or where in the city to start trying to locate her altar frontal.
"This is so different than researching with secondary sources. With primary sources, you get your own sense of the topic. In this case, some writers weren't as competent as others, so you have to judge if it's reliable or not," O'Brien adds.
As Green points out, this ability to sift through what's important is essential to their research: "In the archives, details about everyday matters are interspersed with information about the art we are studying – and, in fact, way outnumber the relevant information. So you have to have unbelievable patience."
By summer's end, O'Brien, Sexton and Green had each drafted research papers but were still refining their theses; this spring, they plan to submit their findings to an undergraduate research journal published by the Johns Hopkins University Press.
"My hope is that the students not only engage more profoundly with their objects of study and with archival research," Webster says, "but that through the extended research and writing process, they come to possess the sense of intellectual 'ownership' and mastery that accompanies serious humanistic inquiry."
Webster, who received a grant from the Andrew W. Mellon Foundation to cover most of the students' trip in addition to a separate grant and fellowship for one of three books she is writing, hopes that she will be able to lead more students in this type of research.
"Whatever their plans for the future," she says, "my goal is to equip them with the intellectual and experiential tools and confidence to tackle anything that comes their way."