Lindsay Ambrecht '07 Drawn to Flexibility of Neuroscience Major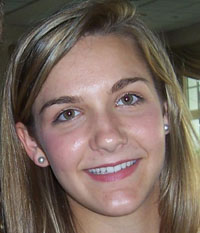 When Lindsay Ambrecht started at William & Mary, she was torn between a major in Chemistry or Biology. Then she discovered the Neuroscience major and was instantly drawn to its flexibility. "I was able to take courses in kinesiology and psychology," she explained. "The variety of science courses available was very appealing to me."
Lindsay remained engaged outside the classroom despite her rigorous academic schedule. She was a founding member of Optimal Healing Environments, an organization promoting care for overlooked patients. With OHE, she volunteered at the men's geriatric ward of Eastern State Hospital, an opportunity she found to be greatly influential. "A lot of medical jobs for undergrads are just filing papers, but I got the chance to talk to patients. I learned how to communicate, which is a huge part of medicine."
On campus, Lindsay has also been involved with "Unite for Sight", serving as chair of this new organization. The group organizes service trips, raises funds for cataracts surgeries, and collects used eyeglasses in donation boxes around campus.
In the classroom, Lindsay assisted her honors advisor, Prof. Robin Looft-Wilson, with research that later became her honors thesis, "Connexin Expression after Femoral Artery Ligation."
"Prof. Looft-Wilson has been a great advisor. The lab experience actually made my honors thesis enjoyable," she said. "It made my classes make a whole lot of sense." Ambrecht hopes to get her research published. Already she has been named a finalist for the David Bruce 2007 Excellence in Undergraduate Research Award and will be attending the Experimental Biology Conference in Washington, D.C.
Lindsay's status as a Monroe Scholar enabled her to spend her summers working actively in her field. "One summer I went to the Dominican Republic as a part of Medical Ministry International. We started clinics in villages, in schools and churches, and worked with local doctors." She helped manage the pharmacy, dispensing prescription drugs that would otherwise have been unavailable.
Another summer she shadowed a pediatric surgeon at New York's Mount Sinai Hospital. "My surgeon was a major part of the hospital's adolescent weight-loss surgery program, which was really big in the news at that time. It was great to go around with a pioneer in the field."
Next up is medical school, aiming toward a career in cardiology or ophthalmology. "The field is still developing," she said. "There's a lot of research to be done."
To any student looking to major in Neuroscience or go into medicine, Lindsay offers the following advice: "Take classes all over the sciences, and pick interesting courses. Don't just worry about what you need for the MCATs. Get involved with research. Take advantage of the wide range of classes and laboratories that are offered. The program at W&M made me feel very prepared for my future."