Frances Breeze Scholarship Endowment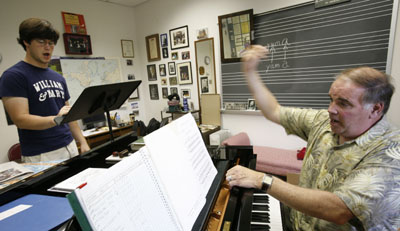 Ms. Breeze retired from her faculty position at William and Mary in 1983, the same year she was honored with the Algernon Sydney Sullivan Award for excellence in teaching. Compelling nomination letters from many of her students attested to the passion and commitment she brought to her studio.
One of Frances' favorite phrases was "It's all about the kids." Alumni and former students who experienced her unique, unforgettable, often unconventional teaching created a committee to honor her memory by establishing the Frances Breeze Scholarship Endowment. Committee members leading this effort include Janet Rollins Atwater '84, Lance Humphries '84, Valerie Fisher MacPhail '82, and Beth Miller Ryan '83.
The endowment will provide scholarship funds to defray the cost of private voice lessons and will support a minimum of six voice students annually.
While you may not have known Frances, we hope you will consider joining us in honoring her spirit of dedication and unconditional generosity. This scholarship will allow many students to discover the challenges and rewards of individual vocal instruction, and, maybe, learn a life lesson or two along the way.
To Make a Gift
You can contribute online now with your credit card, using our secure web server. The contribution form will be pre-selected to direct your gift to the Frances Breeze Scholarship Endowment fund.