Non-Traditional & World Music
Non-Traditional & World-Music Ensembles
The Department of Music offers non-traditional and world-music ensembles. For audition and rehearsal information, contact the directors of each ensemble, as listed below.
Appalachian Music Ensemble | Brazilian Music Ensemble | Indonesian Gamelan | Middle Eastern Music Ensemble | Music of India Ensemble | Performance Art Ensemble | Russian Music Ensemble
Appalachian Music Ensemble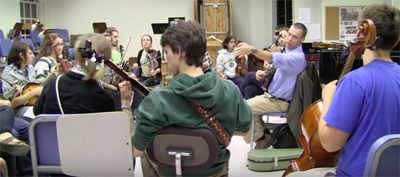 Director: [[wrjohnson,Tripp Johnson]]
The William and Mary Appalachian Music Ensemble explores the rich heritage of traditional Southern Appalachian tunes and songs. Consisting of 25-40 students with a few faculty members and local sitting in, the ensemble learns the music together, often by ear. Playing together as a large group, the focus is on learning dance tunes and group vocal songs that have been played and sung in this country for centuries. The group also forms smaller ensembles, allowing members to delve deeper into the repertoire and develop their playing skills working with other musicians in a small group setting. Typically, the ensemble will be hold at least one dance each semester, as well as several performance opportunities for small groups.
Brazilian Music Ensemble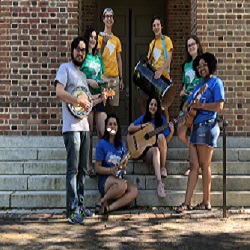 Director: [[miyanaga,Michael Iyanaga]]
With a mix of Brazilian musical instruments and Portuguese-language singing, the ensemble performs a repertoire comprising roots samba, choro, samba-de-roda, and forró, as well as more contemporary Afro-Bahian pop music. Undergraduate students with varying degrees of experience with Brazil, music, and Brazilian music practice traditional Brazilian music, learn about Brazilian culture, and improve their musicianship through performance and the fun of music-making. The ensemble was established in 2015 as a means of expanding and diversifying the approach to Latin American studies at William & Mary.
Indonesian Gamelan
Director: Danis Sugiyanto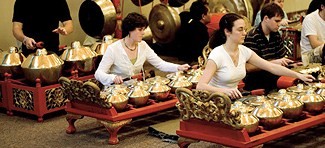 The William & Mary Gamelan is a set of impressive hanging gongs, kettle gongs, and xylophones on beautifully carved and painted wooden stands. The set of instruments was crafted in Central Java and was purchased with the help of the first William and Mary Freeman Grant in 2004. The official name of the gamelan at William & Mary is "Gamelan Tunjung Baskara" or Sun Lotus. The Javanese musician/dalang/teacher Midiyanto named the instruments in a special ceremony in March 2006. Read more about the Gamelan Ensemble in an article from the Reves Center.
Middle Eastern Music Ensemble
Director: [[akrasm,Anne Rasmussen]]
Established in 1994, the William & Mary Middle Eastern Music Ensemble is composed of 15-25 primarily undergraduate students who come to the group with excellent musicianship, but no prior experience with the Arab, Turkish, Persian, Armenian and Greek traditions that comprise the music of the Middle East. The ensemble, an extension of the ethnomusicology curriculum in the Music Department at W&M, is a forum for exploration and performance.
Music of India Ensemble
Director: [[mgkatz,Max Katz]]

The William & Mary Music of India Ensemble was established in fall of 2011 to provide students a personal experience of North Indian classical music through a hands-on study of its premiere stringed instrument, the sitar. Up to eight students participate in the 1-credit course, which is offered every semester (listed as MUSC E23). Learning entirely orally/aurally, each semester the class focuses on a specific raga (or melodic entity), crafting and memorizing a sequence of semi-improvised developmental sections. The semester culminates with a public performance of the suite-like piece with a guest tabla accompanist (percussionist). The ensemble regularly hosts visiting artists who offer instruction as well as public performances. Guest artists have included Paul Livingstone (sitar), Homnath Upadhyaya (tabla), and Irfan Khan (sarod).
Performance Art Ensemble
Director: [[mjlerman,Mark Lerman]]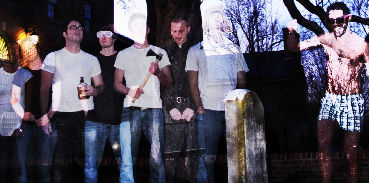 The Performance Art Ensemble is an interdisciplinary workshop for artists and enthusiasts of all disciplines.  The ensemble convenes every spring semester (listed as MUSC E22: Performance Art Ensemble). Members work individually and collectively to generate material that advances commonly held notions about art, performance, media, and the creative process. The group frequently tours, most recently to New York City and Yale University, and performs annually at the end of spring semester. The group is dedicated to creative freedom and exploration and forms cohesion through development of trust, mutual respect, and honesty. Any and all who are interested in Avant-garde, experimental, collaborative, and interdisciplinary performance, are welcome although there are a limited number of spaces.
Russian Music Ensemble
Director: Jonathan Johnston
Founded in 2014 by ethnomusicologist Jonathan Johnston, the William & Mary Russian Music Ensemble (RME) is the latest to emerge out of the College's diverse array of musical groups. As the group continues to evolve, they look forward to expanding our diverse repertoire which includes Russian, Ukrainian, Serbo-
Croatian, Polish, Bulgarian, and Jewish songs. Despite its youth, the Ensemble has already collaborated with prestigious musicians and organizations, from the Washington Balalaika Society to the Balalaika and Domra Association of America, whose annual convention members attended last summer. They have had the honor of having guests artists like Tetiana Khomenko (balalaika, Kyiv), Vitali Lyman (piano, Kyiv), Angelina Galashenkova (domra, Atlanta, originally from St. Petersburg, Russia), and John Huston (classical guitar, Atlanta). This semester, the genius of the Moscow duo of Alexander Tsygankov (domra) and Inna Shevchenko (piano) will grace W&M as the RME's special guests. In addition, the Ensemble has performed at local venues and events, such as the 2017 William& Mary Global Film Festival, during which it helped present Chad Gracia's Ukrainian documentary The Russian Woodpecker, the Williamsburg Public Library Theatre, and the Foreign Language Association of Virginia (FLAVA) convention at the Williamsburg Hilton Double Tree Hotel. The Ensemble prides itself on educating audiences of all ages about the rich and varied culture of Eastern Europe. In February 2017, members performed at the Maggie L. Walker Governor's School to encourage students to pursue Slavic studies in their undergraduate careers.