Classical & Jazz Ensembles
The Department of Music offers a wide variety of traditional ("classical") performance ensembles. For audition and rehearsal information, contact the directors of each ensemble.
Brass Ensemble | Classical Guitar Ensemble | Early Music Ensemble | Jazz Combo | Jazz Ensemble | Gallery Players | Opera Workshop | Percussion Ensemble | Saxophone Ensemble | String Ensemble | Viol Ensemble | Woodwind Ensemble
Brass Ensemble
Director: Gabe Stone
Classical Guitar Ensemble
Director: Timothy Olbrych
Early Music Ensemble
Director: TBA
The Early Music Ensemble plays Medieval, Renaissance, and Baroque music on period instruments. Our collection includes recorders (8 sizes), viols (3 sizes), lutes, vielle, gothic harp, hurdy-gurdy, rebec, rauschpfeife, krummhorns, cornamuses, a quintet of gemshorns, cornetto, baroque oboe, baroque flute, baroque bows for string players, and access to several harpsichords and a 1740 organ housed in the Wren Chapel pitched at a =417 and in fifth-comma meantone tuning. Some students play their own old instruments, including baroque violin and baroque flute. Click here for a news story on ensemble member Evan Callaway ('12) who built a contrabass recorder for his Monroe project. For other samples of the ensemble's playing, search "W&M Early Music Ensemble" on YouTube.
The ensemble gives two major concerts per year, in November and April, in the historic spaces in and near campus such as the 1693 Wren Chapel and the 1715 Bruton Parish Church in Colonial Williamsburg; the group also performs half a dozen other times per year for local and distant events. The ensemble has performed throughout the mid-Atlantic and in 2008 released a CD of music of Bach and Handel on period instruments. About 15 students per year are chosen to join the group, including, in some years, one singer per voice part. Rehearsal times are chosen at the mutual convenience of the students and the director. 
Jazz Combo
Director: [[hwsimo,Harris Simon]]
Jazz Ensemble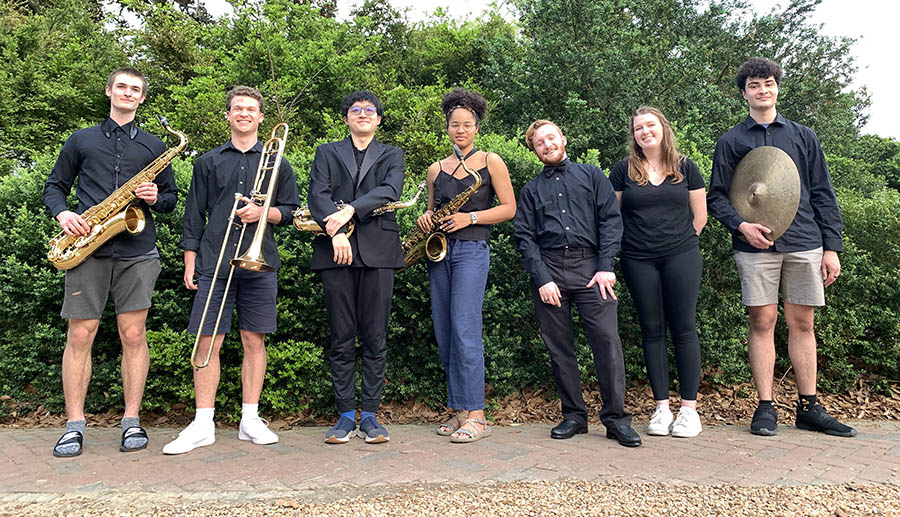 Director: [[vxhaskins, Victor Haskins]]

This 20-piece big-band performs many styles of jazz. The  Jazz Ensemble gives several performances each semester, featuring faculty and student soloists and combos; the group is also in constant demand for informal gigs in the Williamsburg area. For more information, please visit the Jazz Ensemble website.
To help support the W&M Jazz Ensemble, please consider making a donation. Your gifts are greatly appreciated. 
Mixed Ensemble: Gallery Players
Director: [[sfviax,Susan Via]]


Gallery Players is a conductor-less, advanced level, chamber orchestra comprised of 15 William and Mary string players. One solo instrument, other than strings, may be featured. Rehearsals are on Wednesday evenings in Ewell Recital Hall with one performance each semester on the Candlelight Concert Series at Bruton Parish Church in Colonial Williamsburg. Collaborative concerts with W&M Music Faculty, and other ensembles may be offered.
For more information, please visit the Gallery Players Website

To schedule an audition, please contact:
Susan Via, Director of Gallery Players
[[sfviax]]
Opera Workshop
Director: Ryan Fletcher
Percussion Ensemble
Director: John Lindberg
The Percussion Ensemble at William and Mary is in its 35th year. It has been under the direction of John Paul Lindberg since its inception in 1977 when the then Music department Chair, Dr. Frank Lendrium, asked Mr. Lindberg to form a chamber ensemble for the undergrad percussionists in the department. Since that time, the ensemble has performed both standard literature for percussion ensemble by Michael Colgrass, Carlos Chavez, Gardner Read, and Saul Goodman to modern transcriptions of works by Bela Fleck and original works by Karen Jackson Ervin, Mitchel Peters, and Jared Spears, among others. The ensemble performs on professional class instruments such as five Clevelander timpani, Fall Creek orchestra bells, and a Malletech marimba and xylophone. The ensemble also has many vintage instruments at its disposal that are used as the literature may require, along with the standard drums and accessories. The Percussion Ensemble has become a dynamic part of the extremely active music performance program offered by the William and Mary Music Department. 

 
Saxophone Ensemble
Director: James Nesbit
String Ensemble
Director: Neal Cary
The String Ensemble class is for small chamber music groups with strings. This includes, but is not limited to, string sextets, quintets, quartets, trios, and duos. Groups can also include piano. The class is by permission only to ensure that everyone can be placed in an ensemble, and to help create groups where students are well-matched in experience and ability. Students are encouraged to form their own groups if possible, but this is not a requirement. Coaching is on either Mondays or Tuesdays, and begins late - usually 10:00 PM or later.

Woodwind Ensemble
Director: Patti Carlson