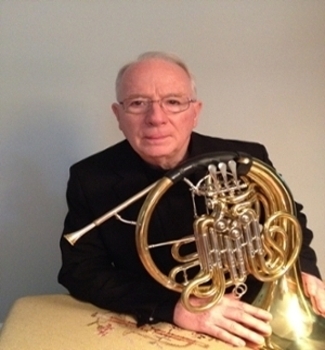 David Wick
Instructor of French Horn
Office: Ewell B57
Email: [[dewick]]
Email2: dwick744@gmail.com

Education
University of Iowa
Indiana University
Background
Principal horn of the Virginia Symphony, Virginia Opera Association
I enjoy working with students who are not necessarily pursuing a career in music. Lessons are geared to the students' needs and desires. Appropriate literature is selected to provide a stimulating learning experience.
David Wick performed as principal horn of the Virginia Symphony and the Virginia Opera Association from 1981 to 2013.  As soloist with the symphony, he has performed the Concertos and Sinfonia Concertante of Mozart, Benjamin Britten's Serenade for Tenor, Horn and Strings, Frank Martin's Concerto for Seven Winds and Percussion, and Kenneth Fuchs' Canticle to the Sun.
He is principal horn of the Shenandoah Bach Festival where he has been featured as soloist in Bach's Brandenburg Concerto No. 2, Mozart's Sinfonia Concertante, and Schumann's Konzertstuck for Four Horns and Orchestra.
Previously he performed in the Skaneateles Festival, with the Norfolk Chamber Consort, as principal horn with the Cedar Rapids Symphony Orchestra, and for seventeen summers with the Eastern Philharmonic Orchestra and Chamber Players of the Eastern Music Festival.
Mr. Wick earned degrees from the University of Iowa and Indiana University where he studied with Paul G. Anderson and Philip Farkas.  He has served on the faculty of the College of William and Mary since 1985, and also teaches applied horn at Christopher Newport University.