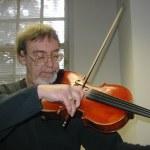 Jonathan Mott
Instructor of Violin & Viola
Office: Ewell B57
Email: [[jxmott]]

Education
Johnathan Mott studied at the Oberlin Conservatory and the Duquesne University School of Music, as well as the Blossom Festival School at Kent State University.
Background
Before coming to Richmond he was a member of the National Symphony Orchestra. While in Washington he performed a great variety of chamber concerts at the Smithsonian presented by the Institution's Ancient Instruments Division.
Mr. Mott has also served as concertmaster of festival and seasonal orchestras around the country, including Artpark in Niagara Falls, N.Y., the Flagstaff Festival Orchestra in Arizona, and the Filene Center Orchestra in Washington, DC.
Mr. Mott has led the Duquesne String Quartet and the Richmond Symphony String Quartet and was a founding member of the Richmond Chamber Players. He has performed as a guest artist on concert series with the Atlanta Chamber Players and at Wayne State University.
Areas of Specialization
Jonathan Mott is a member of the performer-artist faculty at the College of William and Mary and began teaching there in 1984. Between 2003 and 2006 he was Concertmaster of the Williamsburg Symphonia. Between 1973 and 2001 he was Concertmaster of the Richmond Symphony and also directed the Richmond Symphony Strings which performed throughout the state presenting classical and informal concerts.
Academic Positions
In addition to his current adjunct position at The College of William and Mary, Mr. Mott has held adjunct faculty positions at Duquesne University, Virginia Commonwealth University, Virginia Union University, and, as a member of the Congress of Strings faculty, at the University of Cincinnati College-Conservatory of Music.