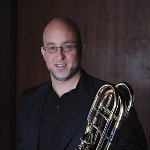 Rodney Martell
Instructor of Trombone
Office: Ewell B57
Email: [[rpmartell]]

Education
Prior to moving to Virginia he gained his Bachelor's of Music from the University of Michigan and freelanced in the Michigan area including stints with the Flint Symphony, Ann Arbor Symphony, Saginaw Symphony, Lansing Symphony and Toledo Symphony among others. Other experience has included the American Wind Symphony and the Disneyland All-American College Band. Principal teachers include H. Dennis Smith, Abe Torchinsky with additional studies with Randall Hawes of the Detroit Symphony.
Background
He was the second person in the Virginia Symphony to be hired by (then new) Music Director JoAnn Falletta in the fall of 1991 as bass trombonist. Mr. Martell has also been active in orchestra administration, beginning in 1993 and serving variously as librarian, personnel manager, Artistic Operations Director and finally as Artistic Administrator (a position he currently holds with the Buffalo Philharmonic). He has also been on the faculty of Christopher Newport University and Elizabeth City State University.
Areas of Specialization
Rodney Martell has been adjunct lecturer of trombone at the College of William and Mary since the fall of 2007. Previously he had held the same post from 1993 to 2000.