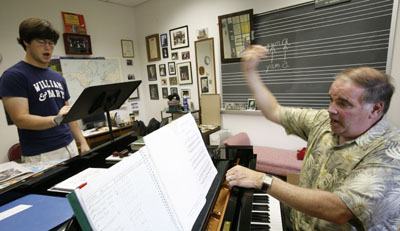 Ryan Fletcher
Instructor of Voice, Director of Opera Workshop
Office: Ewell 252
Phone: (757) 221-1091
Email: [[rkflet]]

Education
Ryan Fletcher received the BMus. and BFA at Boston University. He completed his graduate studies at the Acadamie de Musique Maurice Ravel in Saint-Jean-de-Luz, France, where he studied with Jean-Christophe Benoit and Gerard Souzay. Prof. Fletcher was awarded the A.D. (Artist Diploma) by the French Ministry of Education in 1982.
Background
Prior to 1983, Ryan Fletcher sang professionally in opera, oratorio, and recital throughout the United States and Europe. He has appeared on Good Morning America, the Today Show, and Crossfire, as well as numerous performances for National Public Radio. He has recorded for Nonesuch records and the Colonial Williamsburg Foundation, where he has performed in over 1,500 concerts and recitals.In 2007 he appeared in the PBS production of Christmas in America.
Areas of Specialization
Professor Ryan Fletcher has taught at William and Mary for 25 years. He teaches voice and directs the William and Mary Opera Workshop. Interested students should attend the Opera Workshop performances and, with study, perhaps become a member of the ensemble!
Honors, Prizes, and Awards
The recipient of numerous awards in singing, Mr. Fletcher was a finalist in the World Singing Contest in Holland in 1983. In 2002, 2003, and 2005 he performed at the White House and the Blair House for the President and Mrs. Bush and in 2006 was heard at the Royal Tunbridge Wells Georgian Festival in England. The London Times wrote "[Fletcher] added a beautiful voice and rich character to the proceedings."