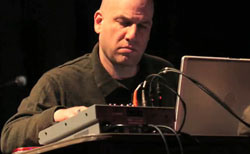 Christopher DeLaurenti
Visiting Assistant Professor of Music
Office: Ewell 110
Phone: (757) 221-7839
Email: [[cadelaurenti]]
Website: {{http://delaurenti.net/}}

Biography
Christopher DeLaurenti is a writer, sound artist, improvisor, and phonographer whose sound work encompasses field recordings, electroacoustic and acousmatic music, text-sound scores, free-improvised low-tech electronics, and compositions for acoustic instruments.
DeLaurenti's work appears on various solo, collaborative, and compilation albums by Electroshock Records (Russia), GD Stereo (USA), Locust Music (USA), Resonance Magazine (UK), DRAFT (USA), Soccer Mom Ebonics (USA), reductive music (Spain), banned production (USA), NAISA (Canada), mimeograph (USA), Ambolthue (Norway), and/OAR (USA), SoundWorks (Ireland), dorkbot-Seattle (USA), Public Record (proudly stateless), Present Sounds Recordings (USA), elektramusic (France), Spectropol (USA), and Move Records (Australia).
He has received several awards and residencies, notably the Alpert Award/Ucross Residency Prize and an Artist Trust / Washington State Arts Commission Music Fellowship as well as funded artist residencies at Engine 27, Harvestworks, and CENTRUM. In 2007, his album Favorite Intermissions: Music Before and Between Beethoven-Holst-Stravinsky was profiled in The New York Times, received accolades from The Wire magazine ("...a high-concept masterstroke by a guerrilla phonographer."), and appeared as a Top 10 pick in Artforum.
A committed teacher, DeLaurenti has taught master classes, guest-lectured, and conducted studio critiques at many colleges and universities including the College of William & Mary, School of the Art Institute of Chicago, the University of Washington, and Cornish College of the Arts.
As a music writer, DeLaurenti's articles, essays, and reviews have been published in The Stranger, Soundscape: The Journal of Acoustic Ecology, The Seattle Weekly, The Seattle Times, Signal to Noise, MSN Music, Leonardo Music Journal, The Believer, and Earshot Jazz.
Appearing in numerous exhibitions and concert festivals, DeLaurenti's sound work has been heard around the world. Some notable performances: Megapolis Audio Festival (New York, 2013), Third Practice Festival (Richmond, 2013), Whitney Biennial (New York, 2012), Museum of Modern Art (New York, 2011), The Kitchen (New York, 2011), Chapel Performance Space (Seattle, 2011), INSTAL 10 (Glasgow, 2010), Bellingham Electronic Arts Festival (2009), Taipei Biennial (2009), the Seattle Improvised Music Festival (2002 and 2008), Spark Festival of Electronic Music and Arts (Minneapolis, 2008), Artivistic 07 (Montreal, 2007), Decibel Festival (Seattle, 2007), Unsafe2 Festival (Poole UK, 2006), Bumbershoot Visual Arts Festival: In Resonance (Seattle, 2005), Musica Nova (Ploesti Romania, 2003), Electric Rainbow Coalition Festival (Dartmouth College New Hampshire, 2003), Mixtophonics (Vancouver BC, 2001), Olympia Experimental Music Festival (1998, 2001), and Electromuse One (1997).
Christopher's sound work resides on his website,  along with many music-related essays and articles.