W&M Summer Study Abroad Program in Berlin, Germany
W&M has its very own summer study abroad program in the city of Berlin. Berlin is an unbelievably vibrant multicultural metropolis and the capital of Germany.
The large town center includes the famous Dutch-Quarter. It has numerous restaurants, cafes, shops and galeries. Nearby is the famous Sans Souci Palace, the summer residence of Frederick the Great. The Neues Palais, which is now the campus of the Universität Potsdam, is where you will take your classes. The Program typically has between 15 and 20 students.
The program is open to students who have completed GRMN 102 or the equivalent. There are essentially three tiers of study:
if you have completed GRMN 102, you will devote the morning hours to language study. In the afternoon, you will take the course offered by the Program Director (GRMN 290).
if you have completed 202, you will have advanced intermediate language study in the morning. In the afternoon, you will take an advanced version of the course offered by the PD (GRMN 390). There will be a separate meeting with the PD each instruction day.
if you have completed 205 or 206, you will

take advanced language classes in the morning, and do the more advanced afternoon course (390) offered by the Resident Program Director.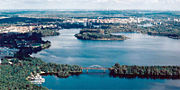 You will live with a German family during your time in Berlin. This is an unbeatable opportunity to practice spoken German and and to get a first-hand experience of German life.
You will earn up to 11 credits for the 6 week program. Your courses will include intensive language study and a cultural studies course offered by the PD. Before leaving for Germany, you must attend a one-credit orientation course, GRMN 204. This course will explore various cultural and historical aspects of Berlin and the surrounding Brandenburg.
For further information about the Summer 2023 program in Berlin, contact [[jmgully, Jennifer Gully]].