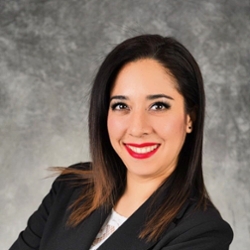 Andrea Gaytán Cuesta
Visiting Instructor of Hispanic Studies
Office: Washington Hall 227
Email: [[agaytancuesta]]

Andrea Adhara Gaytán Cuesta, Visiting Instructor of Hispanic Studies, is a Ph.D. Candidate in Spanish and Portuguese at Rutgers University. Prior to coming to William & Mary she was a Graduate Fellow, at Rutgers University, New Brunswick and has more than 10 years experience teaching and coordinating International Programs in Mexico and the United States, teaching Spanish at all levels and Literature, Culture, and several programs in Social Entrepreneurship and Migration Studies.

Her areas of expertise and research interests include 20th and 21st Latin American and Mexican Cultural Studies, including literature, cinema and graphic art; the intersection of science fiction and cultural imaginaries, affect and embodied cinema, disaster studies and ecocriticism. She will be teaching HISP 207, Cross-cultural Perspectives: Cultures of In (Ex)clusion in Hispanic Studies.  

Andrea is the former Assistant Coordinator of the Summer Program of William & Mary in Morelia, México, Language House Tutor, and Visiting Instructor at William & Mary.