For Jenny Purser '08, A Lot of Self-Confidence and Strong Connections
With both of her parents serving in the U.S. Army, Jenny Purser was raised in the midst of military culture. "I was a tomboy as a kid," she explained. "I couldn't see myself doing anything else."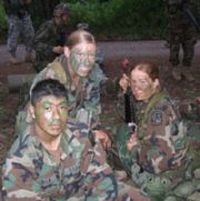 When she arrived at William and Mary in fall of 2004, then, it was only natural that she join ROTC.
William and Mary's Military Science program offered a way of life that Jenny found irresistible. "It's a huge physical commitment," she noted, describing her morning ritual, which often includes undergoing drills and training at 6:15 a.m. Cadets train using obstacle courses, patrolling lanes, and even paintball guns. "There's a lot of emphasis on land navigation and orienteering," Jenny said.
As a senior, she has more responsibilities than ever, helping to schedule and plan events. ROTC seniors are expected to train juniors for the Leadership Development and Assessment Course (LDAC), a watershed event in the lives of cadets.
Jenny's own LDAC was last summer. She ventured to the wilderness of Washington State, where the Army gave her a crash course in leadership tactics and cultural awareness. "We learned about grenades, shooting, infantry. I didn't get to shower for a week - that was fun."
After LDAC, she was flown to Fort Hood, Texas, where she shadowed a Second Lieutenant in the Military Police Unit. Upon graduating, Jenny is guaranteed a position as a Second Lieutenant; being able to shadow someone of that rank proved especially useful. "I got to drive Humvees, use new weapons, practice patrolling. It was good to get exposure to that sort of stuff."
All of that hard work is not without its perqs. In addition to receiving a stipend, ROTC students need not worry about the cost of tuition and textbooks. "Not many people realize that they pay for textbooks on top of everything else. They're very good about that sort of thing."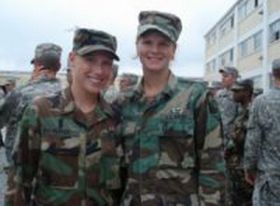 When it came time to select a major, Jenny chose International Relations, which she believes to be the perfect complement to her experience in the Military Science program. "There are a lot of government and econ majors in ROTC," she said, "but I think my interest in IR is just as compatible as either of those." Her interest in IR led to a semester abroad in Beijing, where she was able to participate in a program sponsored by American University. She hopes to one day secure a job involving military intelligence.
While she concedes that ROTC is a significant time commitment, Jenny has still been able to get involved in extracurricular activities. In her freshman and sophomore years, she played on William and Mary's varsity soccer team, and she continues to play intramural sports, particularly soccer and basketball.
Mostly, though, she has focused on military science. "It's a blast doing ROTC. You get a lot of confidence in yourself, and you make such strong connections." Jenny was especially influenced and encouraged by Lieutenant Colonel Monahan, Master Sergeant Beemer, Captain Cory Tatom, and Major Caughey, and her experience has been unforgettable.
"It's all about trying to duplicate the Army experience, the way the Army works. I think it's as good as or better than the big military academies," she vouched.