Department Commissions New Second Lieutenants
This May, the William and Mary ROTC department commissioned four new Second Lieutenants into the Army. Two more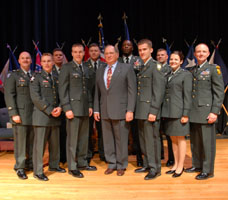 will be commissioning once they finish training this summer.
In a ceremony in the Commonwealth Auditorium of the university, Col. Anthony Nadal (Ret.) gave a reminder of what leadership truly means. He spoke with authority on the subject, as he led one of the companies in the Battle of LZ X-Ray during the Vietnam War; this is the same battle retold in the popular film "We Were Soldiers." His bravery in the face of almost overwhelming odds that day earned him the respect of his soldiers for the rest of their lives, and he encouraged the new officers before him to seek to earn that same level of respect from the soldiers they would soon be leading.
The next day, Secretary of Defense Bill Gates re-administered the Oath of Office to the new lieutenants, thanking them for their service to their country and urging them to continue to have that same spirit of service the rest of their lives. Secretary Gates then later also spoke at the new officers' graduation exercises.