Letchworth ('07) honored with Jefferson Prize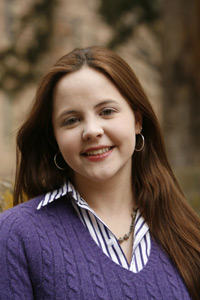 Kendra Letchworth, a senior physics and mathematics major at the College of William and Mary, has been named the recipient of the college's 2007 Thomas Jefferson Prize in Natural Philosophy.
The prize is awarded each year to a William and Mary student for academic achievement in the sciences and for leadership. It will be awarded to Letchworth today as part of the Charter Day ceremonies.
"I'm floored a little bit, because I always knew it was a possibility but never imagined winning," said Letchworth.
Two years ago, the Williamsburg native received a prestigious Goldwater scholarship, and last year she split the E. Gary Clark Memorial Scholarship Award in physics with senior Keith Bechtol. This year, she was inducted into Phi Beta Kappa. Throughout her undergraduate years, Letchworth also flirted with a 4.0 grade point average, a feat accomplished by a very select corps of alumni.
"I just try to hold myself to a high standard," she said.
In addition to her studies, Letchworth has been involved as a member in the Society of Physics Students, and she has worked as a waitress and tutor. For relaxation, she plays the piano and has tried to take at least one music course at the college every semester. In fact, having been admitted to William and Mary as a Monroe Scholar, she used her scholarship money last summer not to pursue science but to travel around Europe and study music. While she admits there are some connections between math and music, Letchworth focused her research in Europe on the artistic and social side. For her it was a great opportunity to study something different than the material in her usual course-load.
"My mom called me a 'Renaissance Kid' growing up. I loved English and musical theater in high school," Letchworth said.
Until she got to William and Mary, she was not drawn particularly to physics, but she quickly came to love the department. "The professors are all familiar, and it's a small department so everyone knows who you are," Letchworth. "It's a really challenging and tough major, but it prepares you."
Although she has worked closely with many professors, Dennis Manos, professor of physics and director of the Applied Research Center, who has known her since childhood, gave Letchworth her first research opportunity. This year she is working on improving calculations for absorption spectroscopy with speed dependent effects as she prepares her senior honors thesis. Her research could help improve the ability to determine the gas content of an atmosphere.
As she begins her final semester at William and Mary, Letchworth is waiting to hear back from the graduate schools to which she has applied. She admits that she still is trying to figure out which aspects of physics she wants to pursue. While she has done a great deal of applied physics, she would like to investigate the science's theoretical side. She also admits to an interest in engineering.
Regardless of where her attention becomes focused, her goal remains that of becoming a professor. As an educator, she believes she can pursue the subject that she loves while having a chance to influence younger women toward the study of science.
"There aren't many female professors in physics, and I feel I can be a role model," said Letchworth.