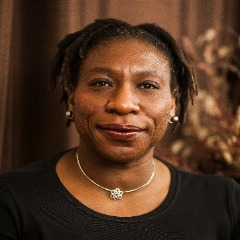 Iyabo Obasanjo
Assistant Professor
Office: Adair Hall 303A
Phone: 757-221-5452
Email: [[iobasanjo]]

Area of Specialization
Global Health
Background
Dr. Obasanjo was born in Lagos, Nigeria. She received a Doctor of Veterinary Medicine degree from the University of Ibadan, Nigeria in 1988 and a Master's in Preventive Veterinary Medicine from University of California at Davis in 1992. She proceeded to Cornell University and completed her PhD in Epidemiology in 1995. She was a Post-Doctoral Fellow at Wake Forest University for 2 years and then worked as a Statistician and Project Manager in clinical research for pharmaceutical drug development for FDA approval. She was appointed Commissioner for Health in Ogun State of Nigeria in 2003 and elected to the Nigerian Senate in 2007, where she was the Chair of the Health Committee. In 2011, she became an Advanced Leadership Fellow at Harvard University and explored the issues of governance, leadership and public health. She has given presentations around the world and was a Visiting Professor at Virginia Military Institute in the 2016/2017 academic year and also taught Applied Public Health to graduate students at Mary Baldwin University in the spring semester.
Education
PhD Epidemiology 1995 Cornell University
MPVM 1992 University of California, Davis
DVM 1988 University of Ibadan, Nigeria
Courses Taught
Introduction to Public Health (KINE 280)
Environmental Issues in Public Health (KINE 325)
Independent Study (KINE 470, 471)
Kinesiology and Health Sciences Research (KINE 480, 480)
Publications
O'SULLIVAN MG, GOODRICH JA, OBASANJO IO, GOODRICH JA. NUTRITIONAL MODULATION OF PLASMA-LIPIDS IN MALE CYNOMOLOGUS MONKEYS – PROFOUND EFFECT OF SOY PROTEIN BUT NOT DEALCOHOLIZED RED WINE. CIRCULATION 1995; 92:1677-1677 
OBASANJO IO, CLARKSON TB, WEAVER DS.EFFECTS OF ANABOLIC STERIOD NANDROLONE DECANOATE ON PLASMA LIPIDS AND CORONARY ARTERIES OF FEMALE CYNOMOLGUS: METABOLISM 1996; 45:463-468 
CLINE JM, PASCHOLD JC, ANTHONY MS, OBASANJO IO, ADAMS MR, EFFECTS OF HORMONAL THERAPIES AND DIETRY SOY PHYTOESTROGENS ON VAGINAL CYTOLOGY IN SURGICALLY POSTMENOPAUSAL MACAQUES. FERTIL STERIL.1996; 65:1031-1035. 
JEROME CP, POWER RA, OBASANJO IO, REGISTER TC, GUIDRY T, CARLSON CS, WEAVER DS.THE ANDROGENIC ANABOLIC STERIOD NANDROLONE DECANOATE PREVENTS OSTEOPENIA AND INHIBITS BONE TURNOVER IN OVARIECTOMIZED CYNOMOLOGUS MONKEYS.BONE. 1997; 20:355-364 
OBASANJO IO, GROHN YT, and MOHAMMED HO THE PREVALENCE OF PARATUBERCULOSIS IN DIARY HERDS IN NEWYORK STATE.PREVENTIVE VETERINARY MEDICINE 1997; 32:243-251. 
OBASANJO IO, HUGHES CL JR. BIOLOGY OF REPRODUCTION AND METHODS IN ASSESSING REPRODUCTIVE AND DEVELOPMENTAL TOXICITY IN HUMANS. IN: MASSERO EJ, SCHARDEIN JL, ED .CRC HANDBOOK OF HUMAN TOXICOLOGY; 1998 
OBASANJO IO, CLINE JM, SCHMOTZERS, WEAVER DS.NANDROLONE DECONOATE CAUSES PATHOLOGIC CHANGES IN THE UTERUS OF SURGICALLY POSTMENOPAUSAL FEMALE CYNOMOLOGUS MACQUES. MENOPAUSE 1998; 5:163-168 
OLOWONYO MT, ADEKANBI MA, OBASANJO-BELLO IO, FINDINGS ON THE USE OF ANTE-NATAL FACILITIES IN OGUN STATE. NIGERIAN MEDICAL PRACTITIONER 2004; 45 (5):68-71
 OLOWONYO MT, OSHIN S, OBASANJO-BELLO IO, REGISTERING IN A HEALTH FACILITY FOR DELIVERY PROTECTS AGAINST MATERNAL MORTALITY IN A DEVELOPING COUNTRY SETTING. JOURNAL OF OBSTETRICS & GYNEACOLOGY 2005; 25 (7): 638 – 641 
OBASANJO IO, ODUWOLE MD; INFLUENCING HIV/AIDS POLICIES AND PROGRAMMES THROUGH A PARTCIPATORY PROCESS, Chapter in AIDS IN NIGERIA, A NATION ON THE THRESHOLD EDITED BY OLUSOJI ADEYI, PHYLLIS KANKI, OLUWOLE ODUTOLU AND JOHN IDOKO 2006; 463 - 472 
OLOWONYO T, OSHIN S, OBASANJO-BELLO IO; SOME FACTORS ASSOCIATED WITH LOW BIRTHWEIGHT IN OGUN STATE, NIGERIA, NIGERIAN MEDICAL PRACTITIONER 2006; 4(6) 154-156 
HUGHES C, WATERS M, ALLEN D, OBASANJO I; TRANSLATIONAL TOXICOLOGY: A DEVELOPMENTAL FOCUS FOR INTEGRATED RESEARCH STRATEGIES. BMC PHARMACOLOGY AND TOXICOLOGY 2013: 14(51).
Service
Board Secretary, US National Committee for UN Women (2015 to Present) 
Panelist on Healthcare, Harvard African Development Conference, March 29, 2014 
Speaker, Leadership in the African Context, Africans in Boston Event, May 6, 2014 
Speaker, Social Innovation for an Inclusive Society, Global Leadership Conference, Tokyo University, Tokyo, Japan. May 28, 2014 
Moderator, Fostering Girls Leadership through Education, United Nations Association of Greater Boston. September 17, 2014 
Panelist, UNESCO Chair conference on Human Trafficking, University of Connecticut, Storrs, October 21, 2014 
Panelist on Governance, Tufts University, Fletcher African Conference, February 20, 2015 
Speaker, Nigerian Election Panel Discussion, Harvard Kennedy School of Government, March 9, 2015 
Panelist on Tufts University, Fletcher School Discussion on Boko Haram, March 19, 2015 
Co-Chair, Africa Table, West Point US Military Academy, 67th Student Conference on United States Affairs, November 4 to 7, 2015 
Speaker, Challenges of Sustaining Democracies in Africa: Examples from Nigeria. North Eastern University, November 9, 2015 
Panelist at United Nations General Assembly side event hosted by MSH titled 'From Overwhelmed to Resilient: Strengthening Health Systems to Better Serve Vulnerable Women and Children' held on September 19th 2016. 
Speaker, Economics Department Seminar, Washington and Lee University, Lexington, VA, Title of Presentation 'Will Having A High Percentage of Women in Parliaments accelerate development in Sub-Saharan African Countries' on October 28th, 2016 
Presenter on Women and Leadership Panel at the 18th Annual Global Conference of International Leadership Association held in Atlanta on November 3rd 2016. Presentation titled: 'Women's Parliamentary Leadership in Africa' 
Speaker, Biology Seminar, Washington and Lee University, 'What Happens to Global Health in the era of anti-globalization' Jan 20th 2017. 
Panelist on Brazil Conference at Washington and Lee University on Corruption in Developing Countries. Feb 5th 2017.
Presented on the topic "Beyond Numbers: Women in African Parliaments" at International Leadership Association, 3rd Biennial Women and Leadership Conference, Advancing Women in Leadership: Cultivating Our Whole Selves, Omega Institute, Rhineback, NY. June 11 to 14 2017.