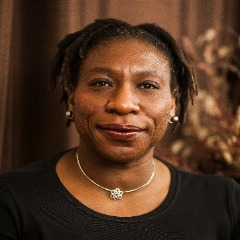 Iyabo Obasanjo
Associate Professor
Office: Adair Hall 400
Phone: 757-221-5452
Email: [[iobasanjo]]

Area of Specialization
Global Health, Health Policy, Social Determinants of Health
Background
Dr. Obasanjo received a Doctor of Veterinary Medicine degree from the University of Ibadan, Nigeria in 1988 and a Master's in Preventive Veterinary Medicine from University of California at Davis in 1992. She proceeded to Cornell University and completed her PhD in Epidemiology in 1995. She was a Post-Doctoral Fellow at Wake Forest University for 2 years and then worked as a Statistician and Project Manager in clinical research for pharmaceutical drug development for FDA approval. She was appointed Commissioner for Health in Ogun State of Nigeria in 2003 and elected to the Nigerian Senate in 2007, where she was the Chair of the Health Committee. In 2011, she became an Advanced Leadership Fellow at Harvard University and explored the issues of governance, leadership and public health. She has given presentations around the world and was a Visiting Professor at Virginia Military Institute in the 2016/2017 academic year and also taught Applied Public Health to graduate students at Mary Baldwin University in the spring semester.
Education
PhD Epidemiology 1995 Cornell University
MPVM 1992 University of California, Davis
DVM 1988 University of Ibadan, Nigeria
Courses Taught
Foundations of Public Health (KINE 280)
Introduction to Global Health (KINE 290)
Health Policy (KINE 323)
Environmental Issues in Public Health (KINE 325)
Independent Study (KINE 470, 471)
Kinesiology Research (KINE 480, 480)
Publications
OBASANJO I, MANN W. RETIREMENT LEADS TO BETTER MANAGEMENT OF DIABETES IN MEDICALLY UNDERSERVED PATIENTS WITH TYPE 2 DIABETES. GLOBAL CLINICAL AND TRANSLATIONAL RESEARCH. SUBMITTED.
OBASANJO I AND MANN W. ASSESSING PATIENT ACCEPTANCE OF INTEGRATING ORAL CARE WITH PRENATAL CARE IN A SAFETY NET CLINIC. MEDICAL REPORTS AND CASE STUDIES. 2019. 4:1 DOI: 10.4172/2572-5130.1000173
 OBASANJO I. HOW ARE WOMEN IN AFRICAN PARLIAMENTS INFLUENCING HEALTH OUTCOMES? JOURNAL OF LEADERSHIP, ACCOUNTABILITY AND ETHICS. Vol 16, Issue 1, 2019.
DIMITROVA-GRAJZL V. AND OBASANJO I. DO PARLIAMENTARY GENDER QUOTAS DECREASE GENDER INEQUALITY: THE CASE OF AFRICAN COUNTRIES. CONSTITUTIONAL POLITICAL ECONOMY. Vol 1. 2019 https://doi.org/10.1007/s10602-018-09272-0
CHAMS-EDDINE A. AND OBASANJO I. POLICY INTERVENTIONS TO COMBAT HIV/AIDS IN CONFLICT AFFECTED YOUTH IN COTE D'IVOIRE. VULNERABLE CHILDREN AND YOUTH STUDIES. Vol 14, Issue 1, 2019 https://www.tandfonline.com/doi/full/10.1080/17450128.2019.1567963
OBASANJO I. LEADERSHIP IN INTERNATIONAL DEVELOPMENT Chapter in In Leadership and Power in International Development. Edited by Randal Joy Thompson and Julia Storberg-Walker, Emerald Press 2018.
OBASANJO I. SOCIAL CONFLICT, CIVIL SOCIETY AND MATERNAL MORTALITY IN AFRICAN COUNTRIES. LEADERSHIP 2018; 14(5):543-555.
OBASANJO I AND GAKIYA M. ECONOMIC AND CULTURAL FACTORS AFFECTING GENDER EQUALITY: LESSONS FROM JAPAN. JENDA:A Journal of Culture and African Women Studies 2017 Issue 31, 1-14. https://www.africaknowledgeproject.org/index.php/jenda/article/view/2967/3370
HUGHES CL, WATERS MD, ALLEN D, OBASANJO I. THE OPPORTUNITY TO TRANSLATE DEVELOPMENTAL TOXICOLOGY INTO A THERAPEUTIC DISCIPLINE Chapter in TRANSLATIONAL TOXICOLOGY, edited by Claude L. Hughes and Michael D. Water. 2016. Humana Press.
HUGHES C, WATERS M, ALLEN D, OBASANJO I; TRANSLATIONAL TOXICOLOGY: A DEVELOPMENTAL FOCUS FOR INTEGRATED RESEARCH STRATEGIES. BMC PHARMACOLOGY AND TOXICOLOGY 2013;14(51).
OLOWONYO T, OSHIN S, OBASANJO-BELLO IO; SOME FACTORS ASSOCIATED WITH LOW BIRTHWEIGHT IN OGUN STATE, NIGERIA,  NIGERIAN MEDICAL PRACTITIONER 2006; 4(6) 154-156
OBASANJO IO, ODUWOLE MD; INFLUENCING HIV/AIDS POLICIES AND PROGRAMMES THROUGH A PARTCIPATORY PROCESS, Chapter in AIDS IN NIGERIA, A NATION ON THE THRESHOLD EDITED BY OLUSOJI ADEYI, PHYLLIS KANKI, OLUWOLE ODUTOLU AND JOHN IDOKO 2006; 463 - 472
OLOWONYO MT, OSHIN S, OBASANJO-BELLO IO, REGISTERING IN A HEALTH FACILITY FOR DELIVERY PROTECTS AGAINST MATERNAL MORTALITY IN A DEVELOPING COUNTRY SETTING. JOURNAL OF OBSTETRICS & GYNEACOLOGY 2005; 25 (7): 638 – 641
OLOWONYO MT, ADEKANBI MA, OBASANJO-BELLO IO, FINDINGS ON THE USE OF ANTE-NATAL FACILITIES IN OGUN STATE. NIGERIAN MEDICAL PRACTITIONER 2004; 45 (5):68-71
OBASANJO IO, CLINE JM, SCHMOTZERS, WEAVER DS. NANDROLONE DECONOATE CAUSES PATHOLOGIC CHANGES IN THE UTERUS OF SURGICALLY POSTMENOPAUSAL FEMALE CYNOMOLOGUS MACQUES. MENOPAUSE 1998; 5:163-168
OBASANJO IO, HUGHES CL JR. BIOLOGY OF REPRODUCTION AND METHODS IN ASSESSING REPRODUCTIVE AND DEVELOPMENTAL TOXICITY IN HUMANS. IN: MASSERO EJ, SCHARDEIN JL, ED. CRC HANDBOOK OF HUMAN TOXICOLOGY; 1998
OBASANJO IO, GROHN YT, and MOHAMMED HO THE PREVALENCE OF PARATUBERCULOSIS IN DIARY HERDS IN NEWYORK STATE.PREVENTIVE VETERINARY MEDICINE 1997; 32:243-251.
JEROME CP, POWER RA, OBASANJO IO, REGISTER TC, GUIDRY T, CARLSON CS, WEAVER DS.THE ANDROGENIC ANABOLIC STERIOD NANDROLONE DECANOATE PREVENTS OSTEOPENIA AND INHIBITS BONE TURNOVER IN OVARIECTOMIZED CYNOMOLOGUS MONKEYS.BONE. 1997; 20:355-364
CLINE JM, PASCHOLD JC, ANTHONY MS, OBASANJO IO, ADAMS MR, EFFECTS OF HORMONAL THERAPIES AND DIETRY SOY PHYTOESTROGENS ON VAGINAL CYTOLOGY IN SURGICALLY POSTMENOPAUSAL MACAQUES. FERTIL STERIL.1996; 65:1031-1035.
OBASANJO IO, CLARKSON TB, WEAVER DS.EFFECTS OF ANABOLIC STERIOD NANDROLONE DECANOATE ON PLASMA LIPIDS AND CORONARY ARTERIES OF FEMALE CYNOMOLGUS: METABOLISM 1996; 45:463-468
O'SULLIVAN MG, GOODRICH JA, OBASANJO IO, GOODRICH JA. NUTRITIONAL MODULATION OF PLASMA-LIPIDS IN MALE CYNOMOLOGUS MONKEYS – PROFOUND EFFECT OF SOY PROTEIN BUT NOT DEALCOHOLIZED RED WINE. CIRCULATION 1995; 92:1677-1677
Service
Editorial Board, Global Clinical and Translational Research 10/2018-Present.
Abstract Reviewer, for 2018 American Public Health Association Annual Meeting held in San Diego in November 2018.
Abstract Reviewer, for 2019 American Public Health Association Annual Meeting to be held in Philadelphia in November 2019.
Section Secretary, Maternal and Child Health Section, American Public Health Association. 2018 – 2021.
Vice-President, Black Caucus of Health Workers, American Public Health Association. 2018-20121
Member, Department of Kinesiology and Health Sciences, Inclusion and Diversity Committee
WMSURE Faculty Advisor 2017-2020
William and Mary Sustainability Grant Award 2019
Charles Center Grants for Teaching Fellows (Fall 2017, Spring 2018 and Fall 2018)
Board Treasurer, US National Committee for UN Women
2020 Committee Chair, Star Island International Affairs Conference
Board Member, Sapiens Plurum
Advisory Board, Mina's List
Invited Participant, Making Government Work Conference, Princeton University, Woodrow Wilson School of Public and International Affairs, April 11th to 12th 2019.
Panel Moderator, Providing Social Services and Protection to Women and Girls in Conflict Zones. Panel at the 63rd Session of the Commission on the Status of Women. New York, March 12, 2019.
Panelist, Leadership and Power in International Development. International Leadership Association Conference, West Palm Beach, Florida, October 25th, 2018.
Panelist, Making History Come Alive, Williamsburg Book Festival, Oct 6th, 2018.
Presentation titled "Women's impact on Health Outcomes in Nigeria" at the Friends of Nigeria Annual Meeting, Water Gap Country Club, Delaware Water Gap, Pennsylvania. August 23rd, 2018.