World Model UN Team earned second place out of 2000 in attendace!
Last week, the William and Mary International Relations Club's World Model United Nations Team returned home from the worldwide conference, held this year in Taipei, Taiwan. WorldMUN consists of nearly 2000 delegates from universities all over the world. Each year, 14 members of the IR Club are chosen to represent William and Mary at this international competition. Over the past few years, the team has made William and Mary proud with its consistently high-ranking performance.


This year, the team earned a second place ranking in large delegations, with 10 out of 14 of the delegates winning awards. Representing France, the delegates won Diplomacy Awards in the Security Council, the IMF, the IAEA, and three General Assembly committees- Disarmament and International Security, Social and Humanitarian, and Special Political and Decolonization. They debated issues ranging from Counter-Terrorism in the Middle East to the conflict between India and Pakistan to the status of refugee camps. The team prepares rigorously for the conference from February until the conference in mid-March.

The William and Mary International Relations Club has been active in Model UN for over 20 years, and the club's participation in WorldMUN has reflected that experience and dedication.

The William and Mary International Relations Club is one of the largest student organizations at William and Mary. In addition to the World Model United Nations Conference, we go to numerous conferences throughout the Fall and Spring semesters, including trips to DC for Georgetown's conference, Montreal for McGill University's conference, and Boston for Harvard University's conference. We also host two of our own conferences. WMHSMUN, the W&M High School Model UN Conference, and WMIDMUN, the W&M Middle School Conference, each attract students from all over the country.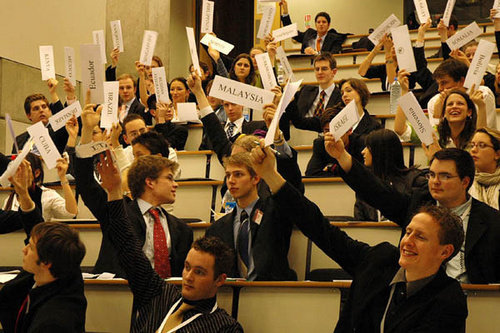 Beyond Model UN, the club has a broad range of activities on campus. Each semester we host speaker events, alumni receptions, and career-advising events. We have an extensive alumni directory so members can get in touch with our vast alumni network. We also have a service branch, IRC Cares, which works to raise funds for a different NGO each year. This year, we are supporting Practical Small Projects, a Williamsburg-based NGO working in Mali. To raise money, we have fundraisers at our two conferences. IRC Cares' biggest event of the year is a silent auction featuring W&M students' photos from the developing world.

For more information and contact info, visit our website! http://web.wm.edu/so/irc/?svr=www